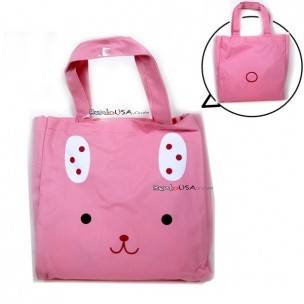 Japanese Bento Accessories Bento Bag for Bento Lunch Box Pink Rabbit
30 other products in the same category:
Customers who bought this product also bought...

Japanese Bento Accessories Bento Bag for Bento Lunch Box Animal Pink Rabbit

This pink bento bag will help you carry your bento box with a cute face in front and a cute tail at the back. This bag has a built-in handle to make carrying convenient. The bag feature is very adorable look that help brighten your lunch or picnic. This bag can hold normal 2 tier bento box with a water bottle, chopsticks and some little containers, or 2 bento boxes stack on the top of each other.

It is also just great for anything. You can use as a small grocery bag, shopping bag, your hand bag accompanied you while shopping, or any other purposes you like.
Bento Lunch Bag Size (measure without handle):
9 inches wide
9.5 inches long
2 - 3 inches deep

This bag can hold up to 6 normal size soda cans OR 3 normal size (500ml) water bottles

Material: Polyester

Imported from Japan
Made in China
No customer comments for the moment.
Only registered users can post a new comment.