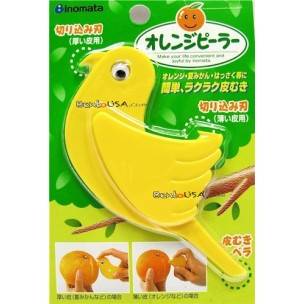 Orange Peeling Bird Japanese Kitchen Cooking Tool
30 other products in the same category:
Customers who bought this product also bought...
Orange Peeling Bird Japanese Kitchen Cooking Tool
Love to eat oranges at lunch? Hate having to poke your nail into a orange to open it and have wet and sticky orange pieces stuck in your finger? Well there is a little bird that can help you. If it is to peel an orange as you make your Bento, or to pack a orange and use while you enjoy your delicious lunch then finish off with a sweet orange this small bird is a great accessory to have. It fits flat in any Bento bag and is a snap to clean.
To use, poke birds peak into orange then pull down to create a line in the orange, repeat around the orange in about 1 inch spacing. The tale of the bird can be used as a knife to cut off the orange peel. This is a safe and fun all in one orange peeler.
Made in Japan
Material - ABS
No customer comments for the moment.
Only registered users can post a new comment.