30 other products in the same category:
Customers who bought this product also bought...
Japanese Bento Deluxe Sauce Drawing Pen 3 Sizes
This is a deluxe bento decorative sauce container that can be used to draw cute faces and shapes or inject your favorite sauce into your food. This set includes 3 food pen containers with 3 different sizes of tips for different use or different sauce. The food drawing pen is easy to hold and squeeze to draw, for example, smiley face, hair, heart, or wording on your bento or dessert.
Approximate Each container Size - 1.38 x 1.18 inch wide and 4.7 inch long (about 40ml)
***Color may slightly differ from the pictures.
How to decorate bento or dessert by Food Drawing Pen
1. Detach the bottom cap. Put in food (chocolate sauce, chili sauce, ketchup, etc)
2. Close it tightly
3. Draw by pushing the main body as shown in the picture. If food does not come out. Tap it lightly to move the food to the nozzle side.
***Color may slightly differ from the pictures.
Material
- Main Pen Body - Polyethylene
- Bottom Cap and Nozzle Cap - Polypropylene
Max Temp Limited 176 F to 80 C
Min Temp Allowed -4 F to -20 C

Imported from Japan
Made in China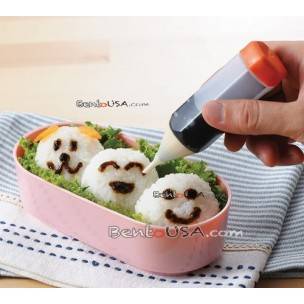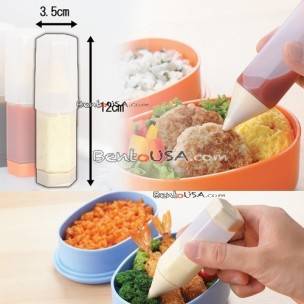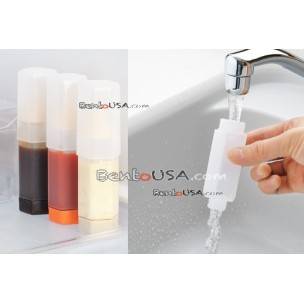 No customer comments for the moment.
Only registered users can post a new comment.