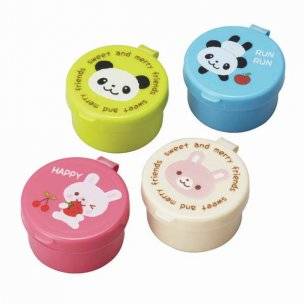 Japanese Bento Sauce Container Dipping Mayo Cup
30 other products in the same category:
Customers who bought this product also bought...
Japanese Bento Accessories Sauce Container set of 4 Mayo Dipping Cup
This small dipping container set of 4 is a great addition to a complete lunch, Panda and Rabbit, colorful and cute designs.

Best use with mayonnaise, ketchup, mustard, thick salad dressing, or any non-runny sauce. But these cute containers can also help you keep your daily supplement, or gums.

Size - 1.4 inches in diameter x 0.85 inch deep
Capacity - 14 ml
Material - PP
Max. Temperature Allowed 158 F or 70 C
Min. Temperature Allowed -4 F or -20 c

Imported from Japan
Made in Japan
No customer comments for the moment.
Only registered users can post a new comment.