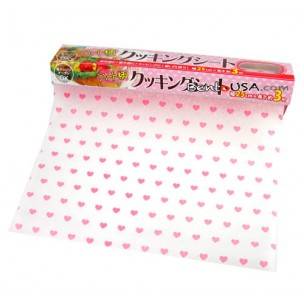 Japanese Silicone Coated Cooking Paper Sheet Heart
30 other products in the same category:
Customers who bought this product also bought...
Japanese Silicone Coated Paper Cooking Sheet Heart 9.10 feet roll
Japanese Silicone Coated Paper Cooking Sheet with pink heart design. It is great for bento lunch, wrapping lunch sandwich, making your sandwich more adorable. It can also be used for cooking in oven, like cookie or other greasy sticky foods. The Silicone coated paper is much more effective than normal wax paper as the silicone allows for a better lubrication release of the food, plus the cooking sheet is much cuter than traditional baking wax paper.
Microwave safe, Oven safe (for use in oven no more than 446 Degree Farenheit within 20 minutes use)
Size: 9.80 inches wide x 9.10 feet
Imported from Japan
Made in China
| From | Title | Comment |
| --- | --- | --- |
| 04/17/2013 Jocelyn B. | | Love this product. It keeps your bento box from becoming stained or you can use it as a separator. |
Only registered users can post a new comment.