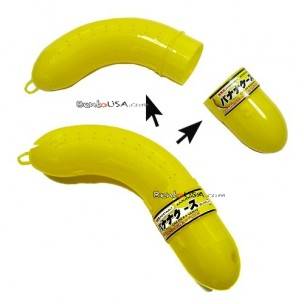 Japanese Portable Banana Case Carrying Box for Travel or Picnic
30 other products in the same category:
Customers who bought this product also bought...

Japanese Banana Carrying Case for Travel or Picnic

This is Japanese Banana Carrying Case for Travel or Picnic - Twist to Open.

This is another accessory for your lunch box or bento. Have you ever had a problem carrying a banana for lunch? Have it been squeezed? A banana is soft, now time to protect the banana with this yellow banana carrying case so that you can enjoy eating when you like. To open, just simply twist to open.
Banana is very nutritious, giving potassium, vitamin B6, vitamin C. Many people suggest their family member to have one banana each day. This banana box or banana case will help you carry your yummy banana around and not make a mess in your backpack.
This item includes one banana case in yellow. The sticker in front can be removed.
Size - about 9 inch long
Made in Japan
Imported from Japan
No customer comments for the moment.
Only registered users can post a new comment.