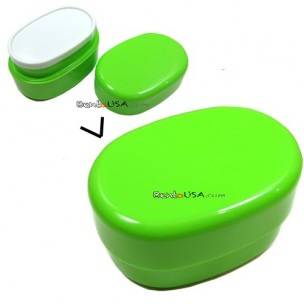 Microwavable Oval 2 Tier Bento Box Lunch Box Green
30 other products in the same category:
Customers who bought this product also bought...
Microwavable Oval 2 Tier Bento Box Lunch Box Green

This is an oval shaped 2 tier bento box or lunch box, made in Japan, microwavable without lids.

The bento box has two tiers, oval shaped. The top tier has plastic cover to keep your food fresh and clean. This bento lunch box has a total capacity of 490 ml. The Bento Box is microwave safe for warming food without lid, following the instruction on the package.
Feature
- Microwavable without lids - The bento box is microwave safe without lids, so please remove both inner and outer lids before microwave.
- Compact design for easy storage after use - The top tier of bento box can be flipped and put inside the bottom tier after use or for storage.
Bento Lunch Box Material:
- Main Bento Container = Polypropylene
- Outer Bento Lid =Polypropylene
- Inner Bento Lid = Polyethylene
Bento Box Overall Size: 5.25 inches Long x 3.6 inches Wide x 3 inches Deep
Bento Box Capacity: Top tier = 200 ml, Bottom tier = 290 ml
Imported from Japan
Made in Japan
Please check out our Bento strap section for our bento strap to hold the bento box pieces together
---------------------------------------------
You may also like other designs of this bento box style (Sold separately)
No customer comments for the moment.
Only registered users can post a new comment.