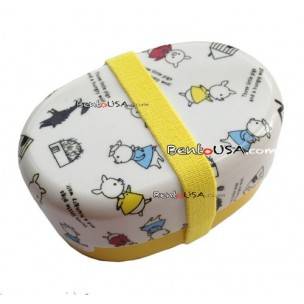 Japanese 2-tier Bento Lunch Box Blue 3 Pigs
30 other products in the same category:
Customers who bought this product also bought...
Japanese 2-tier Bento Lunch Box Blue Pinocchio
This is a two-tiered bento box with featuring the cute and famous Three Little Pigs, made in Japan, great for young kids and smaller portion control. This Bento Box is unique as there are not two of the same as the design, each design is cut from a master design cloth, then by hand the cloth is placed onto the lid, then lackered togather to create a seal to protect the design and smooth feature for easy cleaning. -- so, the design (print) on the top may be different from the picture, depending on the placement of the cloth. --
The Bento box has two tiers. It includes two stacked compartments stacked separated by fitted plastic lid, great for separating two small different dishes. This adorable bento box is made of food-safe plastic, durable, attractive and easy to clean.
It also includes elastic strap or band for secure transport.
This bento box or lunch box set includes
- Two tier bento lunch box
- Bento Belt or Strap
- Microwave safe without lids, Dishwasher safe without lids.
- Lids must be hand wash.
Overall Size - Bento Lunch Box -3.75 x 5.35 x 2.55 inches
PET, ABS, PS (Food safe plastic)
Imported from Japan
Made in Japan
No customer comments for the moment.
Only registered users can post a new comment.