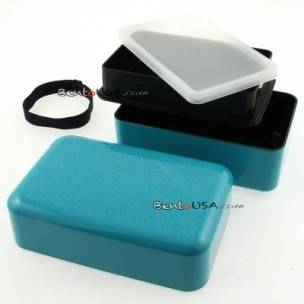 Japanese Bento Box Lunch Box Set Lime Blue with Strap
30 other products in the same category:
Customers who bought this product also bought...
Japanese Bento Box Lunch Box Set Lime Blue Geometric with Band
This bento lunch box designed with asanoha, the traditonal Japanese geometric design on the top lid, resembling plant fibers, large size (compared to other Japanese-style bento box) This is a 2 tier Bento Lunch Box. This bento box is great for portion control.
The Bento box has two tiers. It includes two stacked compartments stacked separated by fitted plastic lid, great for separating two small different dishes. This adorable bento box is made of food-safe plastic, durable, attractive and easy to clean. Not microwave safe and should be hand washed.
This item includes one 2-tier bento box, and 1 elastic band to help secure transport.
Bento Box Overall Size Measures approximately 3 by 5-1/2 by 4 inches
This bento box or lunch box set includes
- Two tier bento lunch box
- Bento Belt or Strap
Size - Bento Lunch Box - 6.4 inches long, 3.5 inches high and 4.25 inches wide.
Imported from Japan
Made in Japan
Not recommended for microwave, dishwasher, oven use
No customer comments for the moment.
Only registered users can post a new comment.