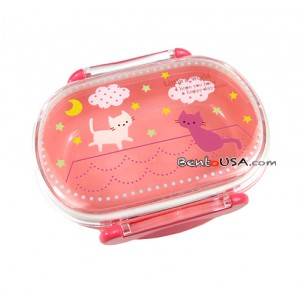 Microwavable Bento Snack Container Pink Cat
30 other products in the same category:
Customers who bought this product also bought...
Microwavable Bento Snack Container Pink Cat 280 ml
This bento box features silicone tight clasps to keep the bento box perfectly close and keep food fresh. The bento box is microwave safe with the lids off. It is a good small size for snack, fruit, salad or small portion of food or snack. The wording on top lid of the bento box says "Little's world I hope you have a happy day today"

Square Bento Box Size: 5.25 inches long 3.5 inches wide 2 inches deep (measured without clasps)
(280 ml)

Bento Box - Microwave Safe (without lid)
Material - PP PS ABS Silicone

Imported from Japan
Made in China
No customer comments for the moment.
Only registered users can post a new comment.