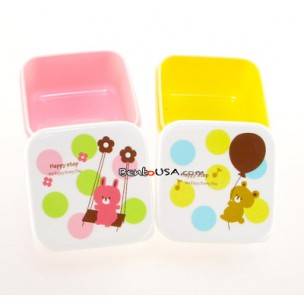 Microwavable Japanese Bento Box Lunch Box set of 2 Happy
30 other products in the same category:
Customers who bought this product also bought...
Microwavable Japanese Bento Box Lunch Box set of 2 Mini Happy Bear and Rabbit
This item includes 2 mini small and cute square bento lunch boxes, adorable bear and rabbit resign, The yellow bear mini bento box is great for boys, while the pink rabbit mini bento box is adorable for girls.

This bento lunch box is a square bento lunch box, microwavable without lid, imported from Japan. The top tier has plastic cover to keep your food fresh and clean. This bento lunch box does not required bento strap or elastic belt to keep the lid tight. These bento boxes are small and great for snack, and small side dishes.

The Bento Box is microwave safe without lid for warming purpose.
Bento Box Size SS: 2.75 inches Long x 2.75 inches Wide x 1.50 inches Deep
Capacity: 280 ml (140 ml x 2 boxes)
Material
- Bento Lunch Box Main container - Polypropylene
- Bento Box Lid - Polystyrene
Imported from Japan
Made in China
| From | Title | Comment |
| --- | --- | --- |
| 08/22/2012 Brittany L. | Cute but leaks | These arrived very quickly and are both very cute. They're the perfect size for a snack, but be warned, they are not leak proof. I put in a small tomato salad in one, and the dressing leaked out. Don't put anything too liquidy in them unless you have them in some other container that is leak proof. Otherwise, they are just right for a small snack. |
Only registered users can post a new comment.