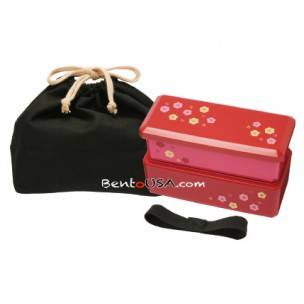 Japanese Bento Lunch Box Designer Set Slim Red with Dividers
30 other products in the same category:
Customers who bought this product also bought...
Japanese Bento Lunch Box Designer Set Slim Red with Dividers
This is a traditional bento box or lunch box set from Japan, microwavable without lids.

This slim two-tone designer bento box has two main compartments. The bottom tier holds 310 ml, while the top tier holds 200 ml. Two removable dividers are included in the top tier (55ml each) (Chopsticks is not included) The Bento Box is microwave safe with the lids off. The bento box is 5.75 inches long, 3.65 inches high and 2.5 inches wide. (Not airtight)
This Set includes 4-piece Bento Box or lunch box, Bento Box Bag, and Bento Strap.
- 4-piece Bento Lunch Box (Microwave safe without lid for warming purpose)
Ume (Flower) design on two tones of gorgeous red and pink color.
- 2 removal dividers on top tier
- Black-color Bento Lunch Bag
- Bento elastic belt
Bento Box Material
- Main bento container = PP, PS, AS, Silicone (food safe plastic)
Made in China
- Bento belt = Elastic
Made in China
- Lunch Bag - 100% Cotton
Made in China
Capacity
- 2 Food compartments (310ml and 200ml)
Hand wash recommended.
Imported from Japan
No customer comments for the moment.
Only registered users can post a new comment.