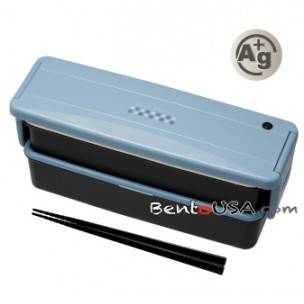 Japanese Ag+ Bento Lunch Box Set 2 Compartment Blue
30 other products in the same category:
Customers who bought this product also bought...
Japanese Ag+ Bento Lunch Box Set 2 Compartment Blue
This is a 2-tier Bento lunch Box Set imported from Japan. (2 food compartments and 1 compartment for chopsticks) The bento box set is well designed for anyone and is in colorful orange color, contrast with black base.
It also comes with the bento divider to create the portions of your food. The bento box is microwave safe with the lids off. The bento lunch box holds 820ml. (Upper part 370ml, Lower Part 450 ml) The bento lunch box is 8.5 inches long, 3.8 inches high and 2.79 inches wide. This is a great size for larger bento box.
It also includes a pair of chopsticks which fit in perfectly in a built-in compartment on the top of the bento box. This pair of chopsticks is 18 cm or 7.10 inches long which is easy for use for grown up

Features:
- "Silver Ion (Ag+)" materials approved by SIAA(Society of Industrial technology for Antimicrobial Articles, Japan) have been applied to enhance anti-microbial capability.
- Sturdy Bento lunch box
- Removable Bento Box Divider
- Built-in Compartment for Chopsticks
- 18 cm Chopsticks
- Insulated Black Lunch Bag
- Total of 820 ml
- Lower part can be put in the upper part for easy storage
- Microwave Safe without Lid
- Hot Water Ok
- Lowest Temperature allow = -4 F or -20 C


Imported from Japan
Made in China
Size: 820 ml
Bento Box Size: 8.5 x 3.8 x 2.79 inches
Chopsticks Size: 18 cm or 7.10 inches

Bento box is Microwave Safe without Lid For Warming Purpose

Material:
Bento Lunch Box: Polypropylene
Chopsticks: AS
Outer Lid and Chopsticks Compartment Lid: ABS
Inner Lid: PE
Lock: ABS
No customer comments for the moment.
Only registered users can post a new comment.