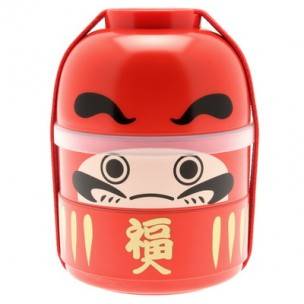 Japanese Bento Box 2 tier Lunch Box Kokeshi Set Daruma
30 other products in the same category:
Customers who bought this product also bought...
Japanese Bento Box 2 tier Lunch Box Kokeshi Set Daruma
This is a two-tiered bento box with cute Japanese Daruma, comes with bowl and bento strap, made in Japan, great for young kids and smaller portion control. (This bento box set only holds out 440 ml or 1 cup, but it is just sooooo adorable)
This cute bento box set has two tiers to keep food in separate compartments, and the top tier has a press on lid to prevent leaks. In addition, The hat design is actually a bowl that can be used as a serving bowl. (Optional, snack can be packed in a zip lock bag separately and use the bowl hat as a serving bowl, sooo cute) the included bowl makes preparing instant soups or broths to go along with your bento lunch easy and fun. An elastic band is included to secure the set together. This adorable bento box is made of food-safe plastic, durable, attractive and easy to clean.
This bento box or lunch box set includes
- Two tier bento lunch box
- one Bowl
- Bento Belt or Strap
Microwave Safe without lid and Dishwasher Safe
Size - Bento Lunch Box -3.8 x 3.8 inches wide x 5.5 inches tall
Capacity - Total of 440 ml (Bottom Tier - 240 ml, Top Tier - 200 ml)
Bowl holds about 240 ml
Hand Wash.
Material - PET,A
Imported from Japan
Made in Japan
No customer comments for the moment.
Only registered users can post a new comment.