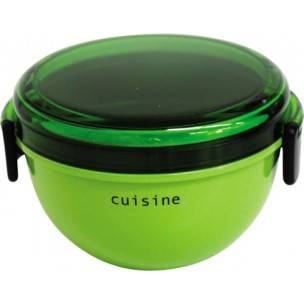 Round Lunch bowl Bento Box 2 tier Green
30 other products in the same category:
Customers who bought this product also bought...
Japanese Round Lunch Bowl Bento Box 2 tier
- Color - Green
This is a two-tiered bento box, round shape. It is originally designed for Japanese rice bowl (donburi), or noodle (men). This bento is made in Japan, great for kids and portion control for everyone. This Bento has two layers, the top tier holds 280 ml and the bottom holds 480 ml, totaling 700ml (about 3 cups) great for separating two small different dishes. This vibrant colored bento features a transparent lid allowing you to view your lunch, lid seals to the base with a removeable silicone seal for easy cleaning. This box is made of food-safe plastic, durable, attractive with gorgeous color and easy to clean. Microwave and dishwasher safe without lid. Microwave safe for warming purpose up to 3 minutes.
Snap lock, no elastic bento belt needed.
Overall Size - Bento Lunch Box - 5 inches in diameter (measuring without side clasps)
Top tier - about 280ml
Bottom tier - about 420ml
Imported from Japan
Made in Japan
No customer comments for the moment.
Only registered users can post a new comment.