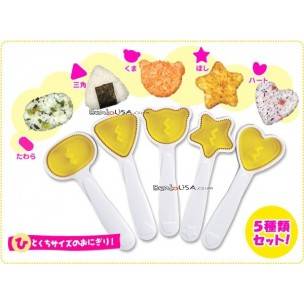 Bento Rice Mold Onigiri Omusubi Shaper 5 Fun Shapes
30 other products in the same category:
Customers who bought this product also bought...
Japanese Bento Rice Mold Onigiri Shaper 5 shapes (medium bite size)
This bento rice mold (for rice ball or onigiri) will make your bento or lunch adorable, 4 vehicle shapes. (oval, heart, star, triangle, animal head shapes) The mold handle make it easy to hold and use as rice scoop. Fill with rice to make a cute bite-size rice ball. The rice mold also features embross texture that will help make rice not stick to the mold. The oval shaped mold can be also used to make any faces, or just simply round bite-size rice ball.

How to make Japanese Onigiri or rice ball.
1. Make the Rice Mold (Mould) wet and use it to scoop rice. The tip is put the rice in the Rice Mold a little more than the size of Rice Mold pattern.
2. Put the lid and push the rice hard.
3. Remove the lid and turn it upside down and take out the Onigiri or rice ball by pushing the center of the bottom.

Size: (measuring without handle)
- Animal face, heart shaper - 1.35 inch long x 1.75 inch wide x 0.7 inch deep
- Star, Triangle rice shaper - 1.75 inch long x 1.75 inch wide x 0.7 inch deep
- Oval rice shaper - 2 inch long x 1.55 inch wide x 0.75 inch deep
Material - PP (Food safe plastic)
Heat Max allowed - 120 degree Celcius or 248 degree Fahrenheit (top rack dishwasher safe without heating)
Lowest temp allowed - -10 degree Celicus or 14 degree Fahrenheit
Made in China
No customer comments for the moment.
Only registered users can post a new comment.