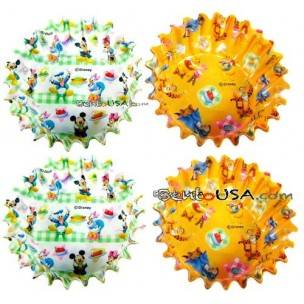 Japanese Bento Accessories Microwavable Food Cup Wiinnie the Pooh
30 other products in the same category:
Customers who bought this product also bought...
Japanese Bento Accessories Microwavable Food Cup Winnie the Pooh
This is a set of Cute Food Cups, Cute Disney Winnie the Pooh Series, a great addition to a complete bento or lunch box. It includes total of 10 pieces of food cups (2 designs). Food cups are coated to help prevent leaking of wet foods.

Microwave OK for warming purpose
Heatproof Temperature 230 Fahrenheit or 110 Cencius
Size - Food cup - 2.25 to 2.45 inch in diameter x 0.75 inch deep (55 ml each)
Material - PET coated Paper (Disposable)
Imported from Japan
Made in Japan
No customer comments for the moment.
Only registered users can post a new comment.