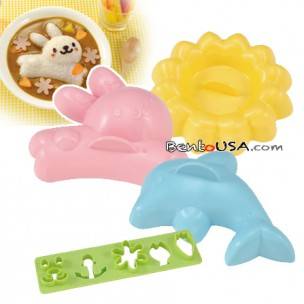 Fun Food Rice Mold dolphins flowers rabbits
30 other products in the same category:
Customers who bought this product also bought...
Fun Food Rice Mold dolphins flowers rabbits and small cutter set
Make any simple meal cute with this rice mold set. This set includes the mold to make dolphins, flower and rabbit. This Rice Mold set also includes a cutter set to decorate your rice mold creation to give it that extra cute touch. This Rice mold set is designed to create a single serving of rice in a cute shape of your choice. Create a bowl of curry and have a swiming dolphin, super cute and simple.
This mold and cutter set include:
- 1 Dolphin rice mold 10.5 cm x 14 cm
-1 Flower rice mold 15 cm x 15 cm
-1 Rabbit rice mold 12 cm x 13 cm
-1 Small Shape Cutter 4cm x 15 cm
Material - PP polypropylene (110 ℃ heat-resistant)
Hand wash only
Imported from Japan
Made in China
No customer comments for the moment.
Only registered users can post a new comment.