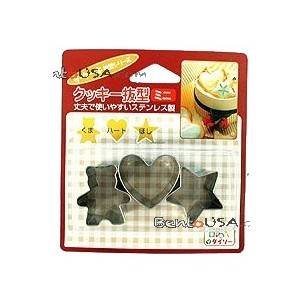 Japanese Bento Accessories Ham Cheese Cookie Cutter Set of 3
30 other products in the same category:
Customers who bought this product also bought...
Japanese Bento Accessory Ham Cheese Cookie Cutter Set of 3 Stainless Steel


This Cookie Cutters are designed using cute fun shapes. They can also be used to cut Ham, Cheese or Cookies or any similar food.

This item includes the following cutters. (Approximate Size after Cut)
- Bear Cutter - 1 x 0.9 inch
- Heart Cutter - 1.25 x 1.1 inch
- Star Cutter - 1.1 x 1.1 inch

Material - Stainless Steel

Imported from Japan
Made in Japan
No customer comments for the moment.
Only registered users can post a new comment.