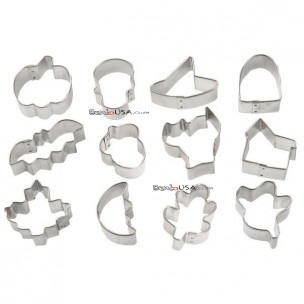 Bento Decoration Accessories Vegetable Cookie Cutter Halloween
30 other products in the same category:
Customers who bought this product also bought...

Bento Decoration Accessories Vegetable Cookie Cutter Halloween 12 pcs

This is another accessory for your lunch box or bento, halloween inspired, but also great for everyday meal for fun decoration. This cookie cutter is made of high quality stainless steel and can be used to cut thin-sliced vegetable, helps make your meal adorable and more delicious. You can now cut your vegetable such as carrot to show how wonderful and cute your food is. This is not only great for decorating your lunch box but also great for any meal you have.
This metal cutter set of 12 includes pumpkin, skull, witch's hat, tombstone, bat, acorn, cat, house, maple leaf, moon, oak leaf and ghost.
- Pumpkin
- Skull
- Witch's Hat
- Tomb stone
- Bat
- Acorn
- Cat
- House
- Maple Leaf
- Moon
- Oak Leaf
- Ghost

Material : Stainless Steel
Size M - average 1.5 to 2.25 inch wide
Made in China
No customer comments for the moment.
Only registered users can post a new comment.