Food Sandwich Cutter set of 4 Vehicles Shapes
30 other products in the same category:
Customers who bought this product also bought...
Food Sandwich Cheese Cutter set of 4 Vehicles Shapes
If you like to make sandwich for your lunch, this is the great accessory to have. This cutter helps you cut your normal size square bread to cute shapes. This sandwich cutter set will help your children to enjoy meal better and funer
These sandwich cutters are food cutters specifically designed to capture the most amount of bread when it cuts the crust off your sandwich. A fun lunch with minimum waste, great for bento lunch decoration or any special meal. Each sandwich cutter is approximately 3.50 x 3.75 x 1.29 inch deep. (or 9 cm x 9.5 cm x 3 cm deep)
This sandwich cutter is taller than cookie cutters, making it easy to cut through two pieces of bread and spread while still keeping sandwiches light and fluffy.
These sandwich cutters set includes 4 fun vehicle shapes. (Car, Plane, Truck, and Train) Great for sandwiches, fairybread, cheese, playdough, toast, cookies, and more.
- Car
- Aeroplane in cloud
- Truck with cargo
- Train with caboose
Tip to make fun and cute sandwiches
- These sandwich cutters work great to remove the crust but if you like the middle of the crust can be used as a crust frame to fill in yummy food for another lunch.
- These sandwich cutters work with any size bread but are especially great for regular to large bread.
- These sandwich cutters work best with soft and fresh bread.
- Use A Cutting Board. Make sure your surface is 100% flat.
- Press down firmly. Place both hands on top of the cutter and press straight down, hard into the sandwich. You will need to press down rather firmly. It is not difficult, but give it a very big push down to begin with.
- Twist it back and forth a few times. Once you've pressed down as hard as you can then twist the cutter back and forth a few times. When you hear the plastic cutter scrapping on the cutting board you know it is cut completely through. The pressure and twisting you need to cut a sandwich may vary. Often the ease of the cut will depend on the sandwich fillings you use (example: peanut butter, obviously, being easier to cut than ham).
- These sandwich cutters are intended for use by adults but can be used by children over 3 with adult supervision.
- Like other food preparation tool, result may vary.
Size (Each sandwich cutter) 3.50 x 3.75 x 1.29 inch deep

Dishwasher safe
BPA, Phthalate, PVC and Lead Free.
100% recyclable packaging
Made in China lunchpunch, lunch punch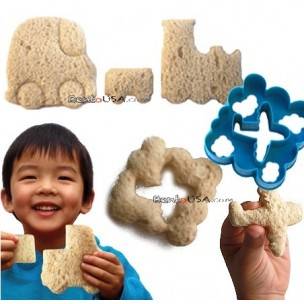 No customer comments for the moment.
Only registered users can post a new comment.