30 other products in the same category:
Customers who bought this product also bought...
Food Sandwich Cutter set Small Fun Bites - Heart

This is a great bento decoration and kitchen tool that instantly cuts kids' food into small bite size, little fun heart shapes. They are perfect to get even the pickiest eaters to try something new and eat healthier.
Each cutter set includes its own cutter with curved blades that quickly cuts food into small bites and a matching popper that instantly pops out the fun-shaped pieces so hands are clean, food is untouched. Use on any kid-friendly food from pancakes, fish, cheese, and bread to waffles, watermelon and burgers. Start with a flat surface and let the magic begin.
This cute food cutter are made of high-performance material for strength, sharpness and durability to create fun, bite-sized meals in less than 10 seconds. They work best on flat surfaces, top rack dishwasher safe and BPA free.
Step 1: Place the cutter on top of food. Remove popper top and set to the side.
Step 2: Grab cutter handles on both sides, press down firmly and rock 5-6 times to cut through the food.
Step 3: Lift the cutter up, insert popper top and pop out the bite-sized pieces
Top Rack Dishwasher safe
BPA Free.
Made in USA Funbites
This item includes 1 piece of cutter and 1 piece of popper.
This item does not include food, plate, or picks.
Bento Food Picks are sold separately under Bento Picks & Utensils section.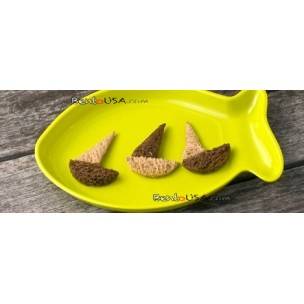 No customer comments for the moment.
Only registered users can post a new comment.