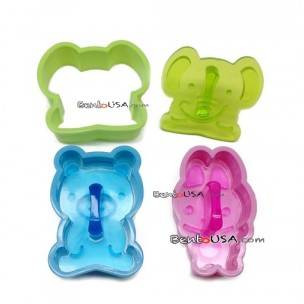 Bento Sandwich Cutter Small Elephant Rabbit Bear
30 other products in the same category:
Customers who bought this product also bought...
Japanese Bento Sandwich Ham Cheese Cutter Small Animal
If you like to make sandwich for your lunch, this is the great accessory to have, as this cutter does not only help you cut your bread to cute small shapes, but it also works as ham, cheese cutter. This Sandwich Cutters are designed to make shapes of a rabbit, a bear, and a elephant. It can also be used to cut ham, and cheese. After you cut your bread you can place the cuts into your cute bento box or lunch box. You can even get creative and decorate your cute bread out with other sauces, by tracing the crease to emphasize the designs (optional)

Approximate Size
- Rabbit deco cutter - 1.35 inch wide 1.75 inch long 1.20 inch high
- Bear deco cutter - 1.25 inch wide 1.85 inch long 1.20 inch high
Material -


Imported from Japan
Made in China
No customer comments for the moment.
Only registered users can post a new comment.