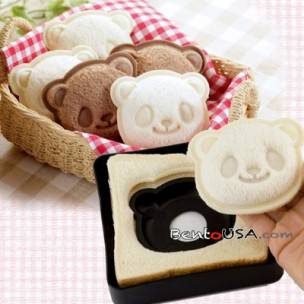 Japanese Bento Lunch Pocket Sandwich Cutter Mold Stamp Panda
30 other products in the same category:
Customers who bought this product also bought...
Japanese Bento Lunch Sandwich Cutter Mold Stamp Panda
This sandwich cutter can make Panda shape and face sandwich. It helps make yummy sandwich more simple and easy, and cute. Make your sandwich with your favorite filling, remove crust and enjoy more yummy lunch.
If you like to make sandwich for your lunch and hate the crust or hate a sandwich where the filling falls out before you can eat it? Then this is a great accessory to have. This cutter helps you cut your normal size square bread to a tightly closed cute panda sandwich. This Sandwich Cutter can turn a sad lunch day with your sandwich fillings all over to a Happy one! This Also removed the crust. This Cutter is great for Kids lunches or anyone. Kids friendly
How to use
The mold includes 3 pieces: base and cover, and bread stamp.
- Start with the base part of the mold. (The base part has dots on the corners)
- Optional. Warm up two slices of bread in microwave (about 20-30 seconds) Then put ONE slice of bread in the base.
- Use the cover part to cover the bread and press down, to make shape lines on the bread. Then remove the cover.
- Put the filling you like within the line that is shown on the bread (should be small amount)
- Put the other slice of bread on the top and use the cover to press down with pressure to ensure a perfect cut.
- Finish
Tip
- Use large size of bread
- Warm up the bread in microwave about 20-30 seconds. If the bread was stored in refrigerator, microwave for 1 minute.
- Use remaining bread to make french toast.
Recipe for French Toast
- Bread (Remaining portion), Egg (1), Milk (100 cc), Sugar (1 tablespoon)
- Mix egg, milk, and sugar
- Dip bread in the mixed egg, milk, and sugar
- Fry the bread on the pan
- Optional, eat with your favorite syrup for extra flavor.
Idea for sandwich
- Almond Cookie sandwich
- Strawberry jam sandwich
- Chocolate sandwich
- Orange sandwich
- Mini sausage sandwich
- Mayo Tuna sandwich
Material - Polypropylene (PP), ABS
Hand wash only
Product size - 5.25 inch wide x 5.5 inch long x 1.45 inch deep
Stamp size - 3.14 x 3.10 inch wide
Imported from Japan. Made in China uncrustable

Here is similar tool to make cute mini bite-size heart and square sandwiches. (sold separately)
Checkout the CuteZCute cutter (stamp, cut-out part) that can be used with this set to create other face shapes like Frog, Pig, and Cat. (sold separately)
| From | Title | Comment |
| --- | --- | --- |
| 12/20/2013 Kathleen V. | Best sandwich sealer ever! | We've tried several different sandwich cutter/sealers. This one is by far the best. The panda is slightly rectangular in shape which makes it work pretty well with most american style breads. We've had this for a year and it gets used regularly and is simple enough for the kids to use themselves. LOVE THIS. We may need a second one. |
Only registered users can post a new comment.