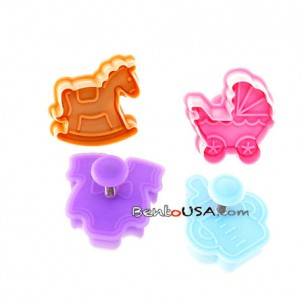 Bento Pastry Cookie Cutter and Stamp set of 4 Baby
30 other products in the same category:
Customers who bought this product also bought...
Bento Bread Cheese Cookie Cutter and Stamp set of 4 Baby M
This cutter and stamp set helps you create fun different shapes with cute imprint on cheese, thin soft bread, cookie, and pastry. 4 adorable designs included. Rocking horse, baby bottle, baby carriage (stroller), and child's outfit. Imprint is easy, just push with the cool built-in spring loaded puncher. You can even get creative and decorate your cute food out with other sauces or chocolate, by tracing the crease to emphasize the designs (optional)

Approximate Size
1.25 to 1.85 inches wide
0.75 inch deep (measure without spring loaded handle)
Material - food safe plastic


Imported from Japan
Made in China
No customer comments for the moment.
Only registered users can post a new comment.