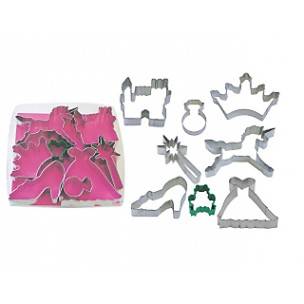 Fun Cookie Cutter Princess Set of 8
30 other products in the same category:
Customers who bought this product also bought...
Fun Cookie Cutter Princess Set of 8

Fun food decoration cutter, great as cookie cutter for birthday party, for cutting ham, cheese or thin-slice vegetable as vegetable cutter for bento lunch decoration. 8 pieces of tinplated set of cookie cutters in gift box with raffia tie: Magic Wand, Unicorn, Tiara, Mini Diamond Ring, Gown, Glass Slipper, Mini Frog, Castle. Cookie Cutter party favors birthday fondant crafts and more
Approximate Cutter Size (about 1 inch thick)
Dress cutter - 3.75 x 3.75 inches
Princess crown cutter - 3.5 x 2.5 inches
Shoe - 3.75 x 2.75 inches
Frog - 1.25 x 1.5 inches
and more

Made of tinned steel.
Hand wash and towel dry.
Made in China
No customer comments for the moment.
Only registered users can post a new comment.