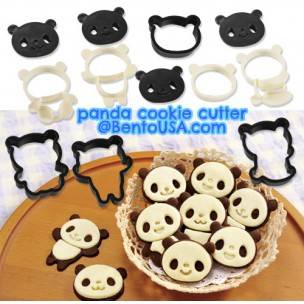 Bento Accessories Cookie Ham Cheese Cutter Panda
30 other products in the same category:
Customers who bought this product also bought...
Bento Accessories Cookie Ham Cheese Cutter - Panda
Super cute Panda cookie cutter set that creates multi layerd panda cookies. This set comes to life with all the different fun combination that can be created. This super cute set includes 12 pieces ( 4 heads 4 bodies and 4 face expressions) which can be used togather to create fun and cute panda food.
This Panda set will excite any desert table, and have all your guests smiling as they anmire the cute pandas. This set makes a great gift for anyone who loves to bake.
Size: 5 × 6 cm wide x 1.5 cm deep
1 X 4.5 X 3.5 cm head stamps
Material - Polypropylene
110 ℃ heat-resistant temperature
Imported from Japan
Made In China
No customer comments for the moment.
Only registered users can post a new comment.