30 other products in the same category:
Customers who bought this product also bought...
Japanese Bento Box Accessories Food Pick Cute Animal Fork 8 pcs
Revised design
Food pick is not only great for bento decoration but for any meal, making your food adorable, fun, more appetizing. It is another way to spend time with your children preparing food and be creative.
This food pick set includes 8 pieces of cute Animal food fork picks, a great accessory to a complete lunch or bento box decoration or party meal, or any meal you like to make it special. This food pick set includes bear pick, lion pick, koala pick, monkey pick, hippopotamus pick, elephant pick, raccoon pick, and sheep pick, all the cutest animal pick designs.
Food Pick Size - about 1.30 inch long (measure including animal head)
Material - ABS (Food Safe Plastic)
Imported from Japan
Made in China
This item include 8 pieces of food picks, does NOT include bento box, or food.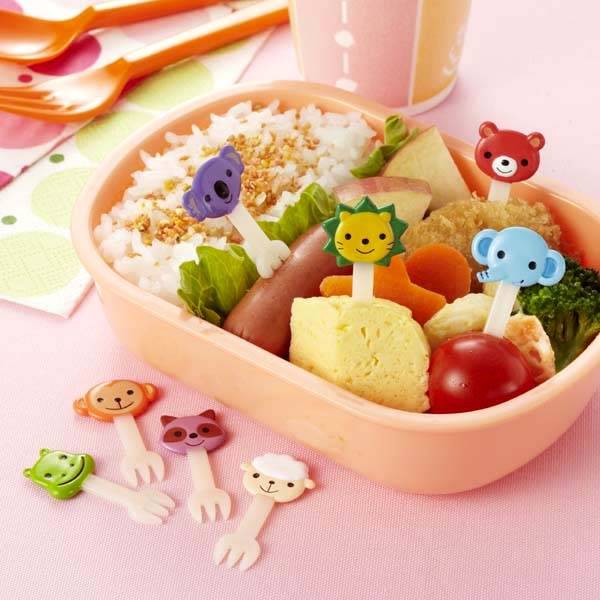 Please check out our matching bento baran sheets. Bento baran sheets are sold separately.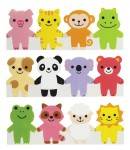 From
Title
Comment
05/11/2013 L. W.
Cutest food picks!
Got this for my very picky eater. Have several animal style food picks, and these are the best rendered. The little limbs are well-defined, the faces are cute and fully-formed. The back of the pick is as well-done as the front--the sheep's tail is a little nub, the monkey's tail curls, etc. You can see the eyes, the mouths, the noses--and the animals are very clear about what they are. You can tell that the sheep is a sheep, that the monkey is a monkey, etc. Some of the other animal picks, while cute, are not as clear and well-made as this set. They are my son's favorites because of this. The sizes are good, too--not so big that they stick up out of the food so much, and not so small that they get lost. They fit in a bento box and can stand up, even with the lid closed. The only con I have with this set is that the two-prong style is very large for smaller food items, and can split a piece of cheese too easily if not careful, for example. But the two-prongs are meant to be the legs of each animal, so it does make sense that they are the size they are.

Even with this minor con, I would love to see and would buy more animals in this set if it were made. For example, a circus theme, a jungle theme, even a "career-people" theme (for example, a chef, a ballerina, a firefighter, a policeperson, etc.) or a "family" theme (a Dad, a Mom, a Grandma, a Grandpa, children, baby, etc.). They are so well-made!!

P.S. I bought 2 more sets and have given them away as gifts. Every child just is thrilled with them!
Only registered users can post a new comment.