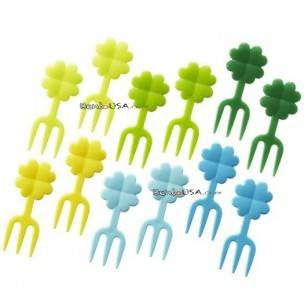 Japanese Bento Box Accessory Clover Fork Food Pick 12 Pcs
30 other products in the same category:
Customers who bought this product also bought...
Japanese Bento Accessory Cute Clover Fork Food Pick 12pcs for Bento Box

Food pick is not only great for bento decoration but for any meal, making your food adorable, fun, more appetizing. It is another way to spend time with your children preparing food and be creative.
This food fork pick set includes 6 different color (dark green, green, light yellowish green, blue, light blu, and yellow), total of 12 fork food picks for bento box decoration (2 pieces each color), This food pick set is also great for any party meal or any meal, lunch, or dessert. Every meal can be special and appetizing.
Food Pick Size - 1.45 inch long (including head)
Material - ABS (Food safe plastic)
Imported from Japan
Made in Japan
No customer comments for the moment.
Only registered users can post a new comment.