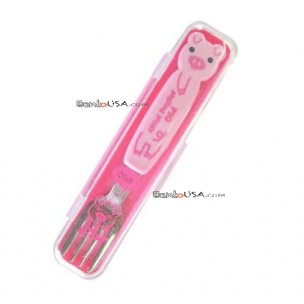 Japanese Bento Fork with Case Pink Pig
30 other products in the same category:
Customers who bought this product also bought...
Japanese Bento Fork with Case Pink Pig
This is a fork and a matching case in a pink pig series. This item is designed using a Japanese cute pig character, the fork says "Pig Pigling Piggy". The case has pink color base, clear top with pig print. The fork handle has a pig's head shape, very cute.
Fork Size- 5.25 inch long
Case Size - 5.40 inch long
Material: ABS, AS
Imported from Japan
Made in Japan
Please check out our matching bento box, bag, and other accessories for this series. The following items are sold separately please click at the image.
No customer comments for the moment.
Only registered users can post a new comment.