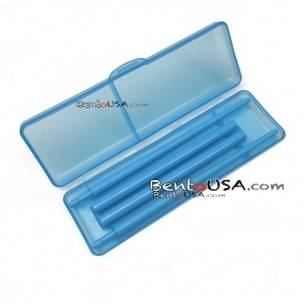 Japanese Bento Chopsticks with Case Portable Blue
30 other products in the same category:
Customers who bought this product also bought...
Japanese Bento Chopsticks with Case PORTABLE Blue

This is a pair of collapsible chopsticks and a matching blue case. This Chopsticks break down to be half its size and stores into a black-grey case. The case snaps close to ensure the chopsticks stay secure in the case. The case is also small enough to fit into a purse or bento bag even your pocket. BYOC (Bring your own Chopsticks) to lunch or dinners.

Size
- Case - 5.25 x 1.75 x 0.75 inch
- Chopsticks when extended - 8.5 inches long

Material - ABS and Polypropylene


Imported from Japan
Made in China
No customer comments for the moment.
Only registered users can post a new comment.