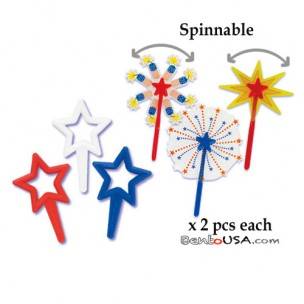 Food Decorating Pick Puffy Star Pick and Spinnable American Star 12 pcs
30 other products in the same category:
Customers who bought this product also bought...
Food Decorating Pick Spinnable and Puffy Pick American Star 12 pcs
Food pick is great for decorating food and make your food more appetizing in just a few seconds. Just stick the food pick in the food and your food will be cuter and more special than usual.
This pick set includes cute food decorating picks, 1-sided puffy design, star series and unique and fun spinnable pick design, American acetate series, 12 pieces per set. (6 designs) This set includes fun spinnable fireworks and puffy star design in 3 colors. They are about 2.5 to 3.5 inches long, which is bigger and longer than other traditional Japanese bento food picks. This cute food pick is great for decorating cupcake, sandwich, rice ball (omusubi, onigiri) party meal, and more.
Reusable food-safe plastic
Hand wash
2.5 to 3.5 inches tall
***The color may be slightly different. Hand painted. Slight imperfection may occor on picks.
Material - Food Safe Plastic
American Acetate picks - Made in China
Star picks - Made in USA
For bulk order of single pick design, please contact us here.
No customer comments for the moment.
Only registered users can post a new comment.