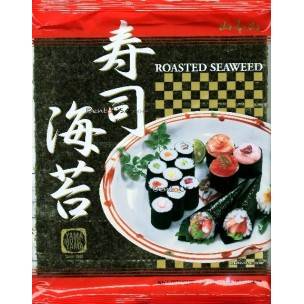 Yamamotoyama Roasted Seaweed for Sushi 10 Sheets
11 other products in the same category:
Customers who bought this product also bought...
Yamamotoyama Roasted Seaweed for Sushi 10 Sheets
When Creating Sushi rolls the key ingredient needed is Seaweed. This Roasted Seaweed is a perfect choice for creating sushi, or both small rolls or large maki rolls. This Roasted Seaweed includes 10 sheets of Roasted Seaweed. Seaweed not only tastes great but full of many needed vitamins, mineralizes high in fiber, vitamins and much more! The Roasted Seaweed is a very Yummy flavor to it and is normally used in many Sushi restaurant.
This Roasted Seaweed pack is packed by YamaMotoYama of America, distributed by JFC Internatinal Inc CA, USA
YamaMotoYama is proud to present its qualiy line of Nori or Seaweed. Selected Nori seaweeds are roasted with car for crispy texture and flavor. Nori seaweed contains dietary fiber, protein, vitamins, and minerals, and has traditionally been eaten by Asian cultures.
This package contains a packet of mositure absorbent to provent the product from dampness.
Each Seaweed Size 8 x 7.5 inches (x 10 sheets)
No customer comments for the moment.
Only registered users can post a new comment.