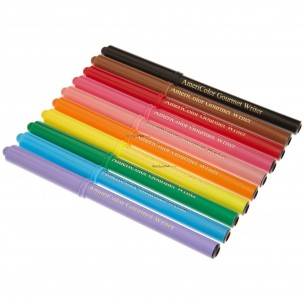 Bento Food Deco Pen Americolor Gourmet Writer 10 Colors
11 other products in the same category:
Customers who bought this product also bought...
Bento Decoration Accessories Bento Edible Food Deco Pen Americolor Gourmet Writer 10 Colors
Need to add that mouth, draw a face, or write a special message to your bento creation, with this new edible pen allows you to go to the next level of creativeness. This Pen set allows you to expand your creative canvas to food. It's a fast and fun way to add colorful designs to all kinds of bakes treats. Use this edible color maker just as you would a ink maker.
This bento food decorating pen set includes 10 colors. Will write on any food surface firm enough to write on in True and Vibrant colors.
Work on: Cookies, Bagels, Crackers, Rolled Fondant, Rice Paper, Royal Icing, Gampaste, Pastries, Fruit, Vegetables, Marzipan, Hardboiled Egg, White Chocolate, and more.
Care Tip
After Use, wipe tip with a clean paper towel
Wipe tip on clean paper towel during use if needed
U.S. Certified Food Color
Kosher Certified
Gluten Free. No Treenuts, No Peanuts. AmeriColor use no ingredients derived from animals in their product.
Gourmet Writer by AmeriColor
Ingredients: water, propylene glycol, may contain one or more of the following U.S. Certified Food Colors: Red 3, Red 40, Blue 1, Blue 2, Yellow 5, Yellow 6, Citric Acid, less than 1/10th of 1% sodium benzoate and potassium sorbate (as preservative)
Made in USA
No customer comments for the moment.
Only registered users can post a new comment.