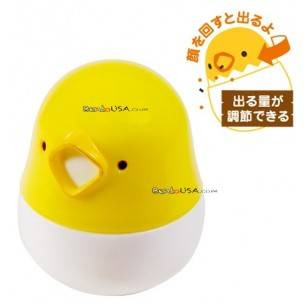 Japanese Bento Box Accessories Spice Container Furikake Chick
30 other products in the same category:
Customers who bought this product also bought...
Japanese Bento Box Accessories Spice Container Furikake Case - Chick

This furikake case or spice container is easy to use, just twist the cap and the spice will come out of the chick's mouth. It is a great addition for your bento decoration collection and also look so cute on the top of your dining table.
This item includes 1 spice container, chick design. Best use with salt, pepper, chili powder, sprinkle and any dry small seasoning. It is also great for Furikake (Japanese spices seasoning which you put over rice.)
Size: 2 inches tall and 1.75 inches in diameter
Capacity: 54 ml
Material: Polypropylene, Polyethylene
Imported from Japan
Made in China
| From | Title | Comment |
| --- | --- | --- |
| 04/17/2013 Jocelyn B. | | Love this product! It's really cute and it works! It works great with my salmon flavored furikake. It twists to top and twists again to close. It's small and portable and can be easily hand washed. |
Only registered users can post a new comment.