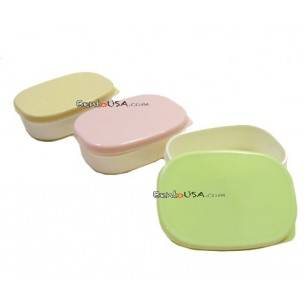 Microwavable Japanese Mini Food Container Great for Dressing with Lid 3 Light Colors
30 other products in the same category:
Customers who bought this product also bought...
Microwavable Japanese Mini Food Sauce Container with Lid 3 Light Colors
Color - Light Pink, Beige, and Green
These mini bento box or sauce containers features seal lids in 3 adorable colors, which is great accessories or addition for side dish, cookie, food, or dip sauce for your bento lunch meal. Each container holds 80 ml or 1/3 of a cup. These containers are also microwave safe for warming purposes without lids. Please remove the lids before using in microwave.
These mini containers can be used with ketchup, mayo, salad dressing, and more.
Each Mini Bento Box Size - 3.4 x 2.4 x 1 inches
Capacity - 80ml each (x 3 containers = 240ml)
Material - Polypropylene (PP) (Food Safe Plastic)
Imported from Japan
Made in Japan
No customer comments for the moment.
Only registered users can post a new comment.