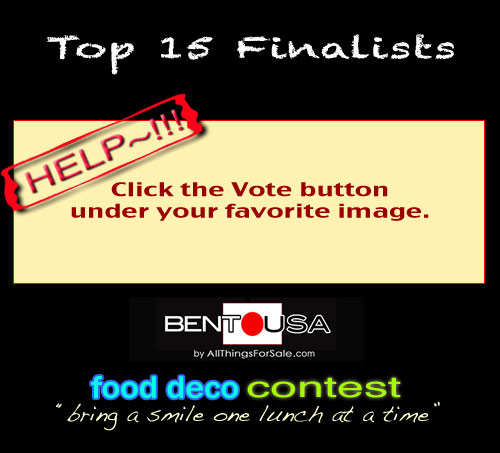 Wow… there were so many good submissions we were just not able to pick just 10 so we picked 15 now we are relying on you the Bento community to help us pick your favorite ones (I KNOW SOO TUFF). We have posted 15 images below, please vote on the images (see guideline below). We are very excited and sooo impressed with ALL if the submissions we love seeing the community getting creative and playing with their food! Please tell your friends to vote! One winner who receive the most votes will receive US$200 paid via PayPal, the other 4 runner ups will receive $25 gift certificate to spend at AllThingsForSale.com — Remember to vote on the image itself not on the album or the vote will not count. — GOOD LUCK!!!!
Guideline:
– Overall appearance of entry (30%),
– Level/complexity of decoration (30%),
– Creativity (30%), and
– Description (10%)
– Do not judge by the quality of the image.
To Vote:
– Go to the description of the image you like to vote for, and click at the main image. (All voting buttons and links has been removed.) One person can vote for as many as images as he/she likes. — Remember to vote on the image itself not on the album or the vote will not count. —
– A Single winner who receive the most votes will receive a US$200 paid via PayPal, and the other 4 runner ups will receive a $25 gift certificate to spend at AllThingsForSale.com
– The winner will be notified within one week following the end of the contest.
– The Voting will end on 8 December 2011, 11.59 PM PST.
Voting has ended. All voting buttons has been removed. The result is posted here.
This promotion is in no way sponsored, endorsed or administered by, or associated with, Facebook.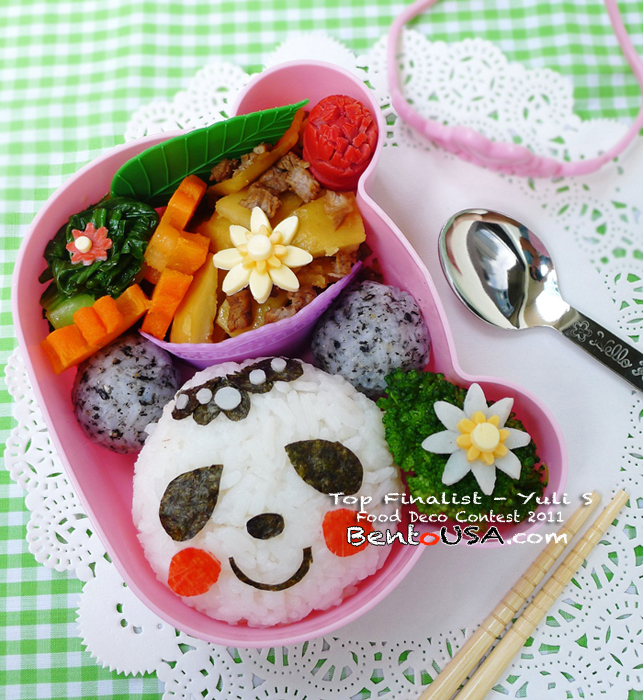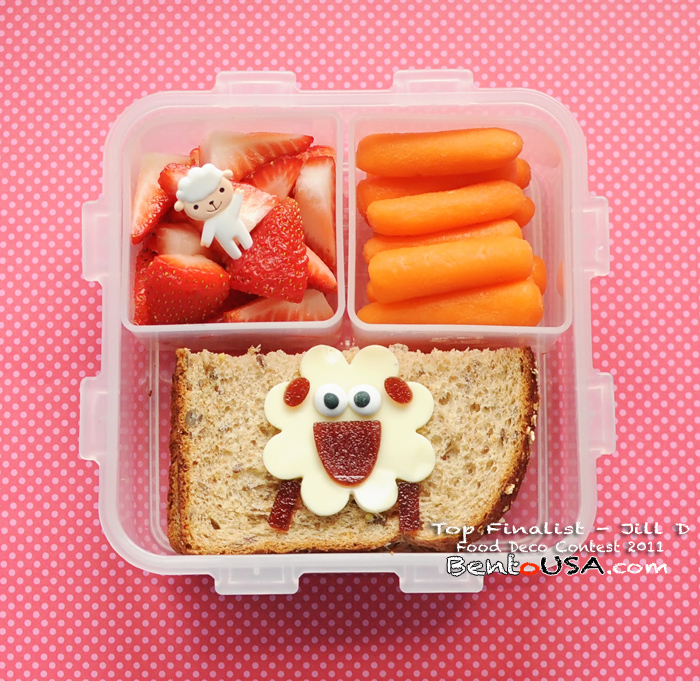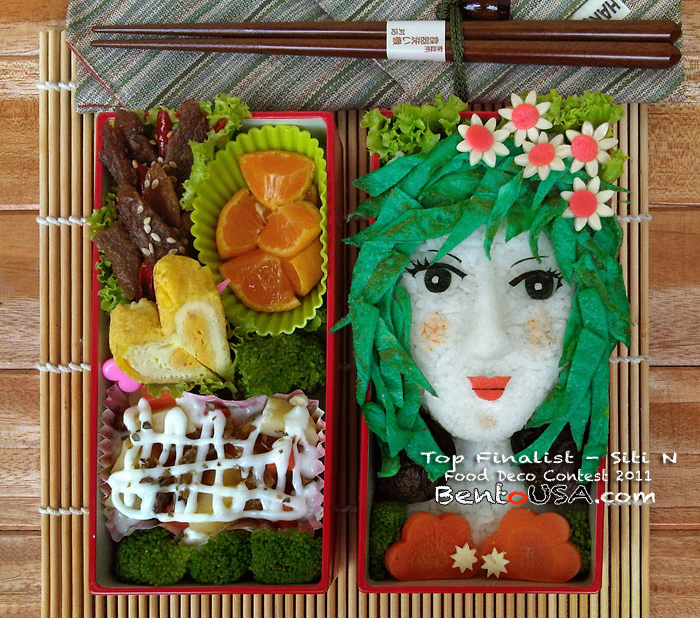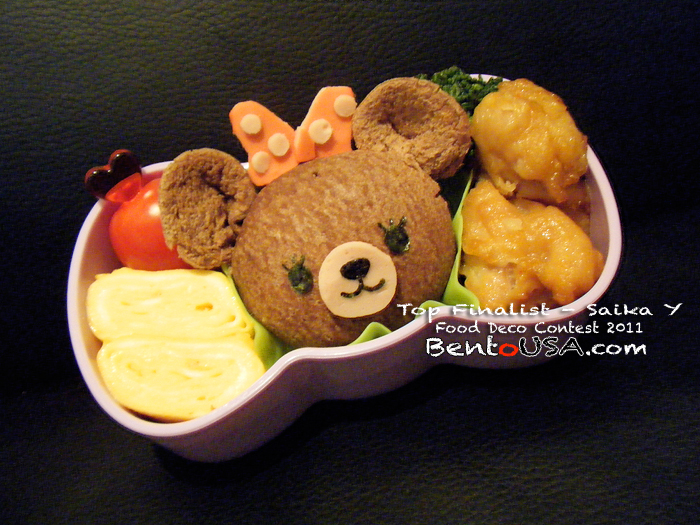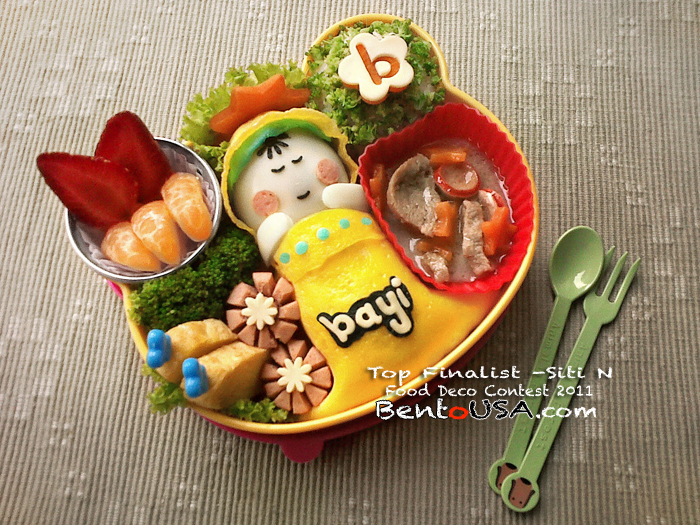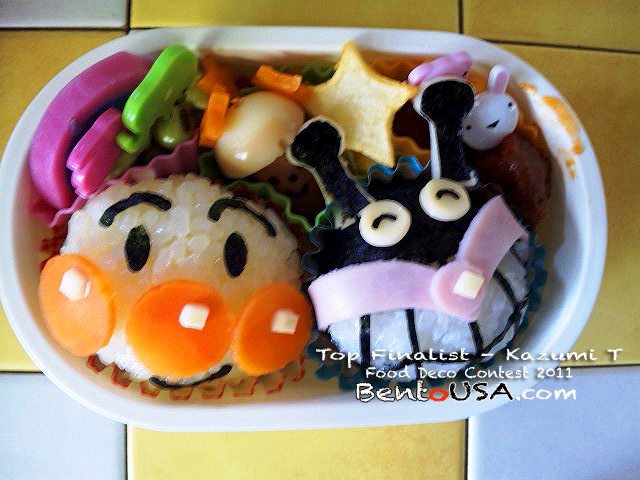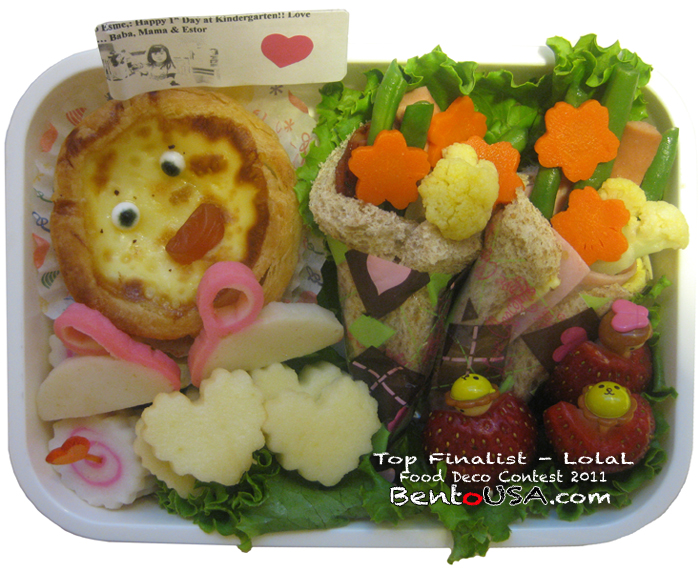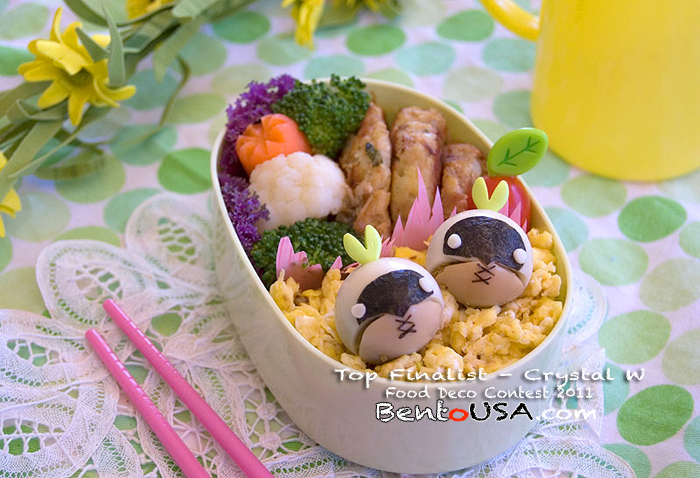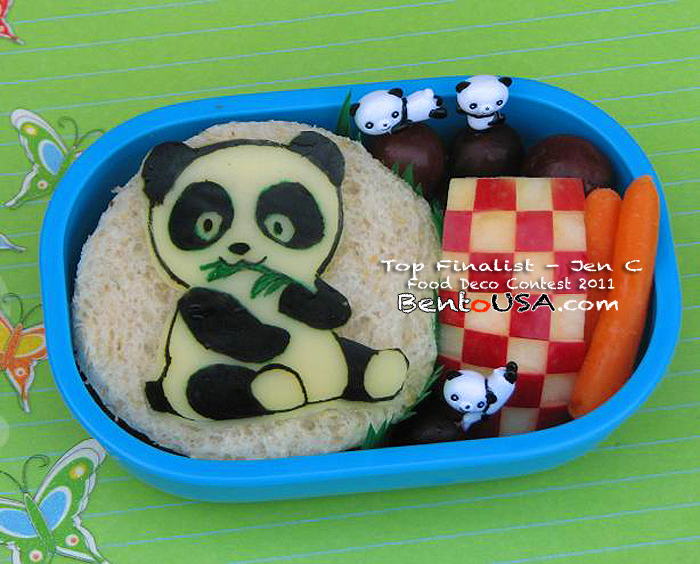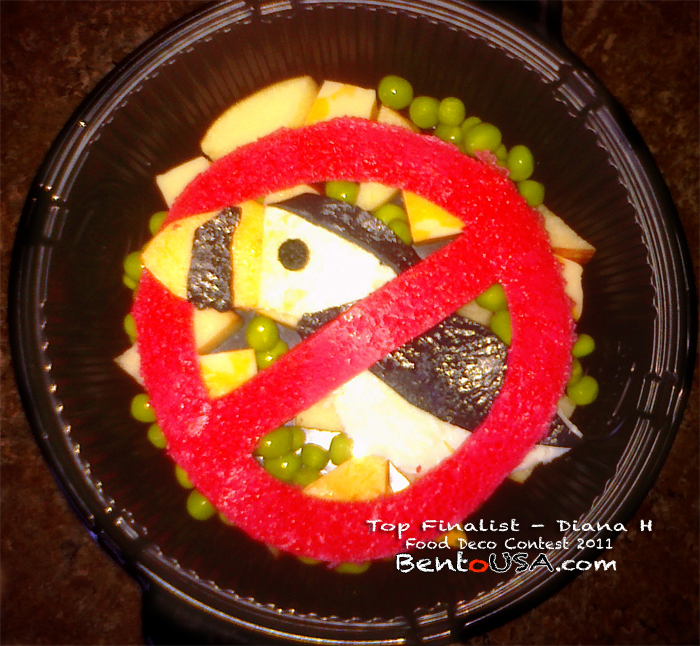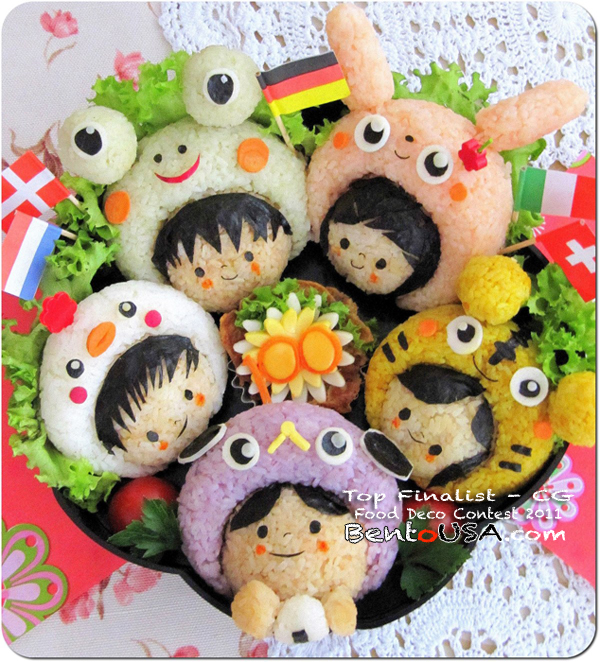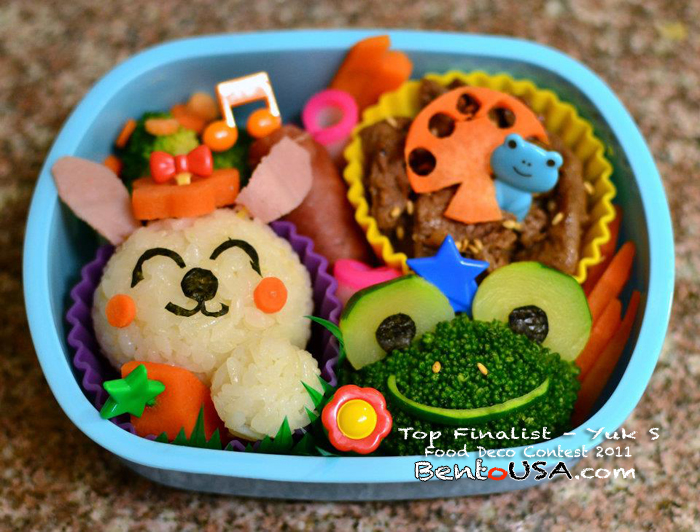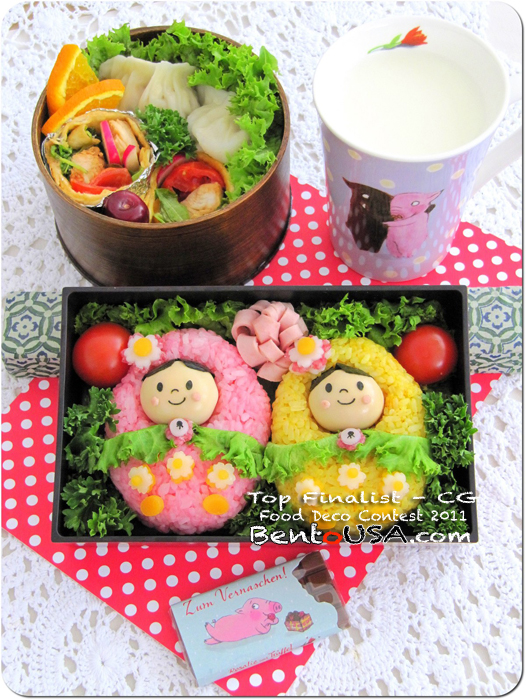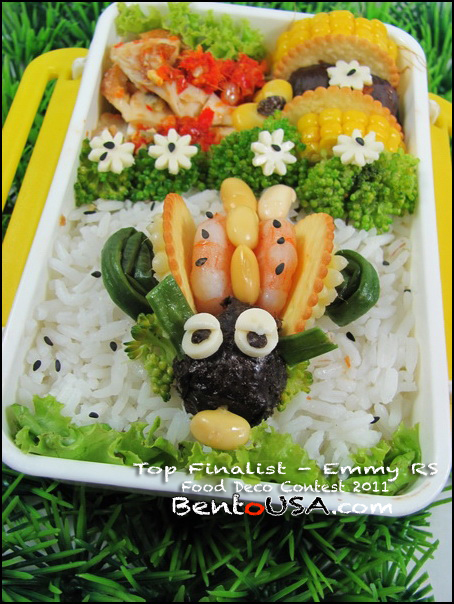 Top Finalist: Yuk S
Photo Title: Bunny and the Frog Bento
Description : For the bunny, I used sushi rice and made rice balls for it's head and paw. Bunny's ears were made with honey ham. The bunny is holding her carrot. The frog was made with broccoli. I used 2 slices of zucchini for it's eyes and mouth. Sesame for it's nose.
Top Finalist: C G
Photo Title: Unazukin Dolls Bento
Description: I made this bento because I find unazukin dolls very cute. I love to make cute food and be creative. I hope this bento will make people smile :). The unazukin dolls are onigiri made from rice. The faces of my unazukin dolls are made out of soy sauce-tinted quail eggs. I used a nori punch to make the facial details. The pink doll is coloured with beet juice and the yellow one with turmeric powder. Their clothes are decorated with cheese (and salami) flowers and lettuce. The other bento box contains homemade boiled dumplings and chicken teriyaki/hot sauce/salad wrapper.
Top Finalist: Crystal W
Photo Title: Tiny Mandragora Bento
Description: These little creatures are from the game Final Fantasy XI and I made them by partially soaking two quail eggs in soy sauce, then decorating them with nori. The main dish is tuna patties with scrambled eggs on top of rice and steamed veggies.
Top Finalist: Diana H
Photo Title: No Puffin Bento
Description: This bento was inspired by some magnets and stickers we bought in Alaska last year that said No Puffin (No Smoking). Puffin & No Symbol made from red white, and black Egg Sheet with cheddar cheese for beak & feet, Sausage bites, Apple, Cheese, Peas.

Top Finalist: Emmy R S
Photo Title: The "lazy" Bee in the Morning
Description: Cloudy in the morning make my kids lazy (like bee) to get up when they time should have their activities for school. Food their decoration was created as my kids school lunch, the menu consists of white rice as a base and sprinkled with black sesame seeds. Bee head is from rice wrapped with nori, corn on the nose, horns and wings of boil green beans, fried shrimp and the body of a grain of cheese crakers and who arranged. The side dishes are: chicken fried with eggplant seasoning with chili ("telur & terong balado"), with two piece of boiled corn. Decorations: decorated boiled broccoli topped with cheese slice (flowers form).
Top Finalist: Jenn C
Photo Title: Panda Bento
Description: This bento lunch was made for my son when he was going to Zoo camp over the summer. He requested a panda lunch for his first day. The panda is made using food coloring markers on a piece of cheese. Also for decoration is a checkered apple which is always requested in lunch and some cute little panda picks. The checkered apple is made very simply by scoring the apple with a sharp knife and removing alternating squares of apple.
Top Finalist: Jill D
Photo Title: Baa Baa white sheep have you any wool?
Description: This was a simple and adorable bento to make. My kids are fascinated with nursery rhymes right now, so I made this bento to go along with the popular nursery rhyme, baa baa black sheep (only I made a cute little white sheep!) I made half a turkey sandwich and decorated it with a cute little sheep. I used a flower cutter to cut a piece of mozza cheese and other small bento cutters to cut the other sheep details out of fruit leather. The sheep also got 2 adorable icing eyes. I also included a container of sliced strawberries with an adorable little sheep pick and a container of baby carrots. This was all packed in the 4 square bento box.
Top Finalist: Saika Y
Photo Title: 3D shaped Bear bento
Description: I cut and molded to ball the chocolate flavored bread, used it for bear face and ears.
Top Finalist: Siti N
Photo Title: I am No Longer a Child
Description: I often make Lunchbox for my daughter with a variety of cartoon characters. Now, she no longer request made lunch with these characters (perhaps too kids impression). Apparently, lunch is decorated with colored haired girl, making her happy. Thanks God! Its contents consist of rice, egg sheet, cheese, tamago, shiitake mushroom, hot spicy meat, mix salad, broccoli, and orange.
Top Finalist: Siti N
Photo Title: B for Bayi (Baby)
Description: My second child is 3 years old and I also want to make a bento like that I made for his sister. I think, bento will also help to know the forms of letters … and I will continue to make bento A to Z. Hopefully succeed. Its contents consist of rice, egg sheet, boiled egg, cheese, sausage, chicken nugget, soup, strawberry and orange.
Top Finalist: Kazumi T
Photo Title: Anpanman and Baikinman
Description: I used soy sauce taste rice ball for Anpanman.
Top Finalist: Lola L
Photo Title: Flower Bouquets Bento – for Esme's First Day of Kindergarten
Description: I made this flower bouquets bento for Esme on her very first day of kindergarten. I am so happy & proud that my little girl is in kindergarten. I even made a little flag to cheer for her, wish her a very happy 1st day & enjoy the rest of the school year. Flower bouquets were egg & ham and egg & beacon sandwiches. And decorated with green beans, cauliflowers, flower shape carrots and strawberries.
Lion was an egg custard decorated with eatable eyes and fruit candies.
Bunnies are made with Japanese fish cake. Hearts are apples, and a cheering flag for Esme, wishing her a very happy first day in kindergarten.
Top Finalist: Nicole M
Photo Title: Re-create a Cartoon Character
Description: My eldest likes watching phinneas and ferb on the weekends so I decided to try and re create phinneas. Looked at a picture and cut out everything using a knife. He has cheese teeth, carrot hair and a cheese and sultana eye. Along side it we added cheese and crackers in a silicone cup and a fruit skewer!
Top Finalist: Yuli S
Photo Title: Princess Panda
Description: I got the idea for this bento because my daughter loves to play with her panda stuffed toys at that time. The Panda itself was made from rice onigiri, the ears were rice mixed with crushed black sesame seed, the eyes and nose were free cut nori. The tiara was made from free cut nori and the circle was made from fish cake. The red chick was made from red part of imitation crab stick. The flower were made from white part of crab stick, American cheese, and Cheddar cheese. I don't have lettuce at that time, so I used my leaves barrant and silicon lace baran to make the bento prettier.
The menu is: Stir fry bok choy, blanched carrots which i cut with flower cutter, potato and beef cooked in sweet soy sauce, beef sausage, and blanched broccoli.
Top Finalist: C G
Photo Title: Happy Children Bento
Description: I made this bento to celebrate the 100th time I've made bento, so this bento is extra special :). I started bentoing in February 2011, it has been a great and fun journey… : )! The little children are onigiris made from rice. They are all coloured with decofuri. Each child's facial features are from nori and the pink cheeks from chili sauce. Each onigiri is filled with chicken katsu with mayonnaise. Chicken suit: Eyes are from nori and cheese, the mouth from carrot and the pink cheeks from radish. is The cockscomb is a red food pick. Frog suit: Eyes and/or nose are from nori and cheese, the mouth from radish and the cheeks from carrot. Rabbit suit: Eyes/nose from nori, cheeks from carrot and the red flower is a bamboo pick. Tiger suit: Facial features are from nori and cheese and the cheeks from carrot. Mameshiba suit: Facials features are from nori and cheese. The bento box is also decorated with lettuce border, cherry tomatoes, parsley, 100 numerals from cheese on top of a kimchi/prawn fritter and some paper flags picks.
—————————-
Thank you. Hope you like!