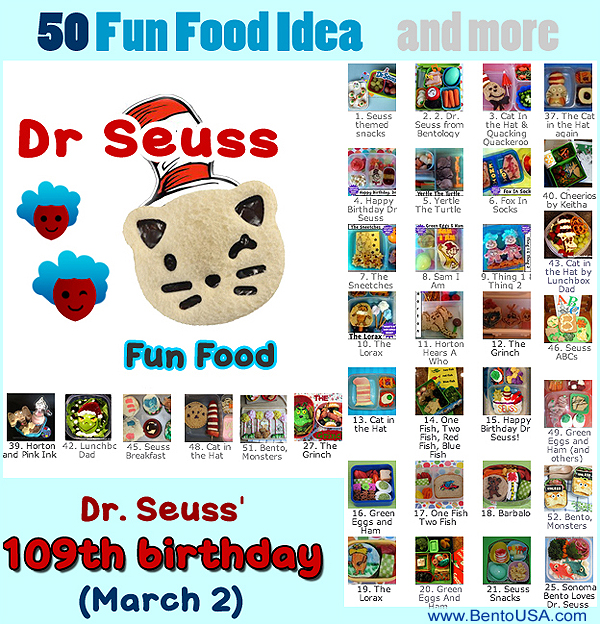 Dr Seuss, one of American greatest writers, poets, and cartoonists was born on March 2, 1904. He is well known for his awesome children's books that everyone loves (including me!). March 2, 2013 is Dr Seuss' 109th birthday anniversary.
In celebration of Dr Seuss's Birthday, please feel free to link up your Dr Seuss themed food (not just bento) below. It could be anything Dr Seuss, for example, any of his cartoon characters, Cat in the Hat, How the Grinch Stole Christmas!, the Lorax, One Fish Two Fish Red Fish Blue Fish, Green Eggs and Hams, Horton Hears a Who, Fox in Socks, Pop on Hop, and many more.
We gathered some of our favorite Dr Seuss' themed food and snack ideas from other creative bloggers. (updated on 2 March 2013) There are also many creative fun idea linked at the bottom of this post. Please be sure to check out everyone's web sites to see many great food, bento, lunch ideas, including tips and tricks. If you have made some of Dr Seuss inspired lunch, snack, or dessert, please feel free to share them with us at the end of this post.
Bento-logy A Lorax Lunch
Source: bento-logy.blogspot.com
Dr Seuss lunch in a Muffin Tray
Source: bentodays.wordpress.com
Green Eggs and Ham Bento – Here or There
Source: zoeslunchbox.com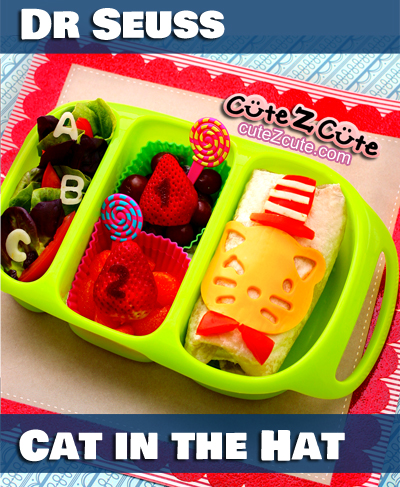 Cat in the Hat Veggie Wrap and Thing 1 Thing 2 Strawberry
Source: cutezcute.com
Quacking Quackeroo from the Dr. Seuss ABC book
Source: bentoriffic.com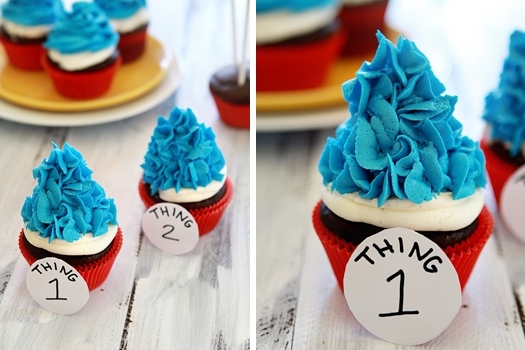 Thing 1 Thing 2 Party Cupcake
Source: goodlifeeats.com
One fish, two fish, Red fish, Blue fish
Source: mommasays.net
Snacky Seuss. It's a bit of a mish-mash of John's favorites. How many can you pick out?
Source: ourlunchbags.com
The Grinch from How The Grinch Stole Christmas
Source: mamabelly.com
Cat in the Hat white tortillas
Source: meetthedubiens.com
The Cat in the Hat Babybel Cheese
Source: keithaschaos.blogspot.com
Gluten Free Dr Seuss Lunch
Source: keeleymcguire.blogspot.com
Barbaloot Cheese Bento
Source: bentoforkidlet.com
Cat In The Hat lunch – Cheese drawing
Source: foodfamilyfun.net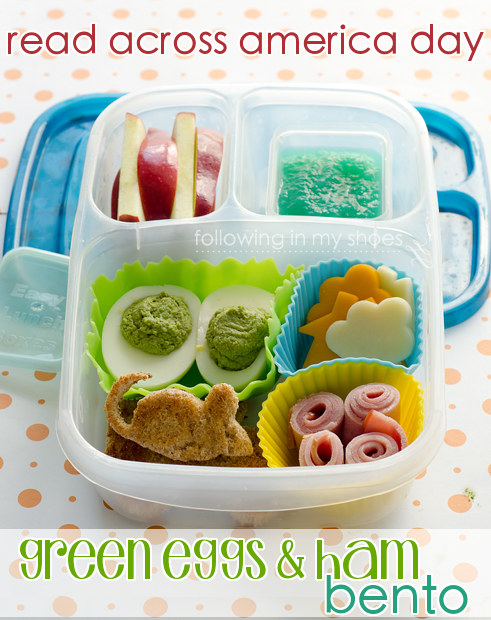 Green Eggs and Ham Bento
Source: followinginmyshoes.com
The Grinch Apple
Source: lunchboxdad.com
Fish Egg, Fish Sandwich from One Fish Two Fish, Red Fish Blue Fish
Source: bitingthehandthatfeedsyou.net
Lorax and Barbaloot Bento
Source: bentomonsters.com
Cat in the Hat Pancake
Source: jdaniel4smom.com
"Lorax" ham & cheese sandwich
Source: lovinglunches.blogspot.com.au
The Grinch Rice Ball
Source: becomingabentoholic.com
Red Fish, Blue Fish, Truffula Trees, Barbaloot Fruit, Green Eggs, and a Seuss Hat!
Source: crystalsramblings.com
Cat in the Hat Toast
Source: kwbentodiary.blogspot.com
The Lorax: Nature's Own 100% Whole Wheat Bread
Source: myepicureanadventures.com
Seussilicious muffin tin meal
Source: bentonbetterlunches.com
Cat in the Hat and Green Eggs and Ham
Source: mommyandmelunchbox.blogspot.com
Cat in the Hat and the Lorax bento
Source: chaosandconfections.blogspot.com
The Lorax Salad
Source: familyfreshmeals.com
Dr.Seuss The Sneetches Bento Lunch
Source: bentoschoollunches.com
Read Across America and Dr. Seuss Lunch
Source: mollyslunchbox.blogspot.com
Just a Little Seuss-y Bento
Source: aboyandhislunch.com
Lorax Bento – I Speak for the Trees
Source: organizedbites.com
Dr Seuss Fish (grilled cheese) sandwich!
Source:onecraftything.com
The Grinch Kiwi
Source: anotherlunch.com
Sandwich with Lorax and Spring Roll
Source: bebento-kids.blogspot.com.au
Please feel free to share your Dr Seuss themed lunch here. If you don't have a blog and would like to share your picture, please send your picture and we will post the picture for you. Email us at

Please grab our button, copy and paste to your original post so others can come here to see and be inspired by other's creative Dr Seuss fun food as well.