A while back, I stumbled upon a fun bento lunch web site and I am very impressed. So today I would like to introduce a very talented bento artist from Japan, her nickname is "Gurea" Please visit her blog. She has made many character bento (Kara ben) and has been nominated for many awards in Japan.
Here is my favorite. "How to make Rilakkuma Bear Fun Hard-Boiled Eggs" Since her blog is in Japanese, I will try to explain in English so everyone can make this, just like Gurea has inspired us. Arigatou…Gurea (Thank you!)

In the above pictures, the brown bear is Rilakkuma bear. In case anyone who does not know about Rilakkuma. Rilakkuma or so called "Relax Bear" is a very famous (and so adorable) character from San-X, Japan. He is always lazy and relaxed. He is also accompanied by Korilakkuma bear (the white bear).
How to make Rilakkuma (brown) & KoRilakkuma (white) Hard-Boiled Eggs
1. Hard boil two eggs.  While the egg is still warm, use your finger to flatten the shape of the eggs a bit.  Soak one hard-boiled egg in clear brown soup or water with soy sauce mixed (just to get the brown color for Rilakkuma)
2. Prepare Chikuwa (can be substitute with white egg) for the ears of Korilakkuma white bear, and ham for the inner ears. Cut using the round shapes of the pink plate and the yellow plate of this cutter.
3. The inner ears of Rilakkuma are yellow cheese cut-outs using the same yellow cutter plate, small oval shape.  The noses of both bears are white cheese cut-outs using the same yellow cutter plate as well. (or using pig's nose shape from Cutezcute cutter)
4. Both Rilakkuma and Korilakkuma bears' faces are seaweed punch-outs from this seaweed puncher. Rearrange the seaweed using a small toothpick or tweezer if needed.
 ※※※※※※※※※※※※※※※※※※※※※※※※
If this is too complicate for you, there is also a Rilakkuma hard-boiled egg mold that will turn any boring hard boiled egg into fun Rilakkuma bear shape in a few steps.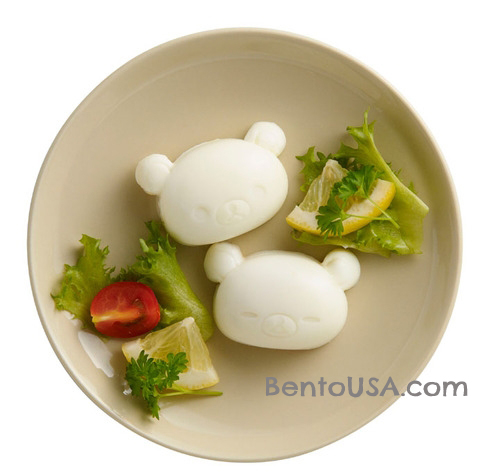 Tools used in this post
More fun with hard-boiled egg molds.