WINNERS 
of 2015 Cute Character Bento Photo Contest
We are pleased to announce the winners of the 2015 Cute Character Bento Photo Contest, organized by the Consulate General of Japan in Los Angeles and BentoUSA. Thank you to all who submitted their cute and creative bento photos and their interest in Japanese bento culture. It was extremely difficult to choose the top 10 photos as everyone did an amazing job on creating work of arts.   The top 10 winning photos were carefully selected by the Consulate, BentoUSA, and Ochikeron. The first place winner was selected by the Consul General himself. We also like to thank all the supporting companies (ANA, Nijiya Market, Marukai Market, Mitsuwa Marketplace, Kinokuniya Book Store of America, CuteZCute) and our judge bento expert, Ochikeron, who helped make this event possible.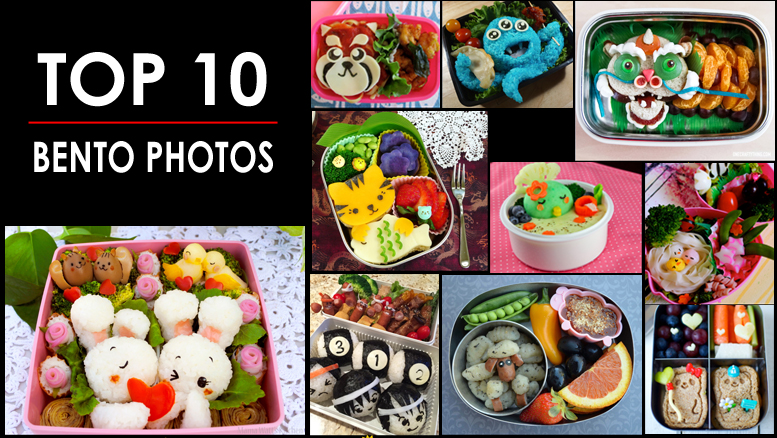 All top 10 photos will be printed to a 32 x 40 inch panel and exhibited at the Japan Foundation, Los Angeles between March 13th to 28th 2015.
2015 Cute Character Bento Photo Contest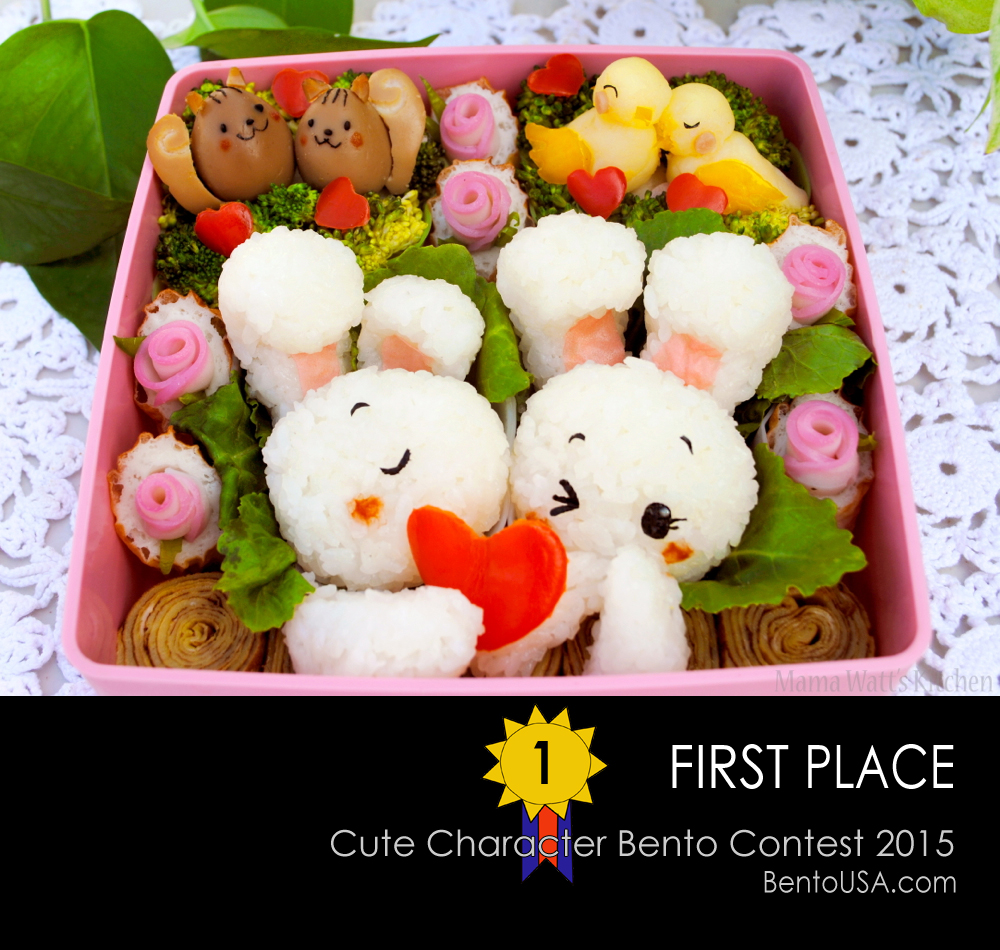 Mori no Kokuhaku
By Natsumi Hirayama Watanabe
I created animals in the forest (squirrels, birds, and rabbits) in love, in their own unique cuteness. The squirrels and birds overlook the young bunny couples from their own trees, while the boy bunny expresses his love to the girl bunny with a little kiss on her cheek. The squirrels are made with quail and regular eggs, flavored in 'aji-tama' style; soy sauce base. They sit on top of a bed of mashed potato, surrounded by broccoli and bell pepper hearts. The love birds are made of mashed potato and yellow bell pepper, also sitting on a bed of mashed potato and surrounded by broccoli and bell pepper hearts.  The main rabbits are simple white rice onigiri. The inside of the ears are pink rice paper, and the red cheeks were put on with a ketchup. A boy hands a big red bell pepper heart as a symbol of his love, or 'kokuhaku.' The tamago-yaki, or the rolled cooked eggs below them are resembling stumps in opposition to the trees the other animals sit in. Roses made of kamaboko, chikuwa, and snow peas were inserted to express nature and also the love in the air.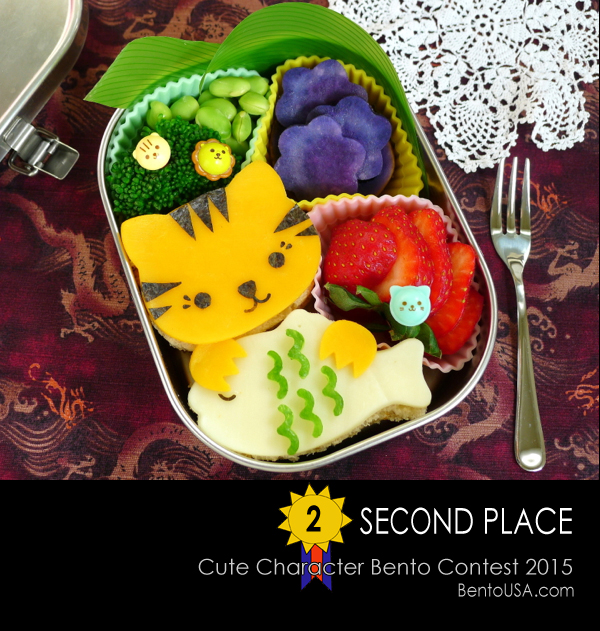 Kitty Caught A Fish Bento
By Sheri Chen
Cute mini sandwich kitty plans to have a sandwich fish for lunch, or are they actually friends? They will enjoy strawberries, broccoli, edamame and sweet potato as well. I hope they enjoy their picnic!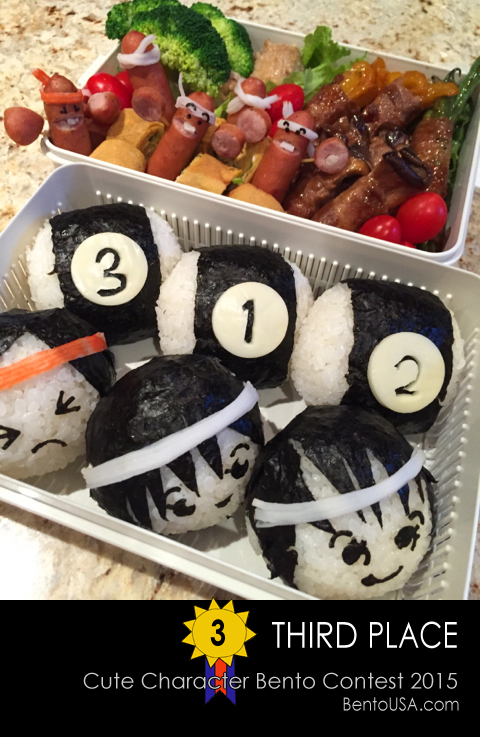 Lunch Sports Day Special Box
By Hanarata
Hachimaki riceball, hachimaki wieners, rolled pork, atuyakitamago, broccoli and grape tomatoes (hachimaki using kanikama)
Photo exhibition (Mar 13-28, 2015)
Location: Japan Foundation, Los Angeles
Click Here to RSVP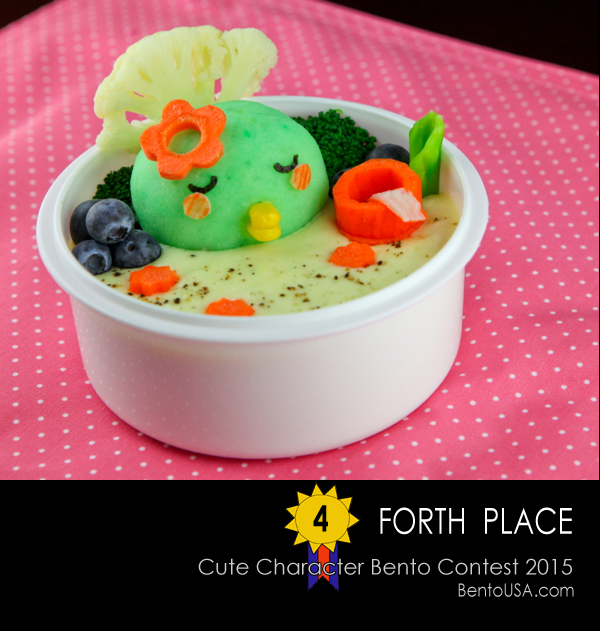 Kappa Relaxing in Hot Spring
By Michelle Tran
Green mashed potato kappa with nori eyes, corn mouth, carrot top, and kani kama blush is relaxing in a pool of white gravy.  It is resting it's head on some broccoli bushes under a cauliflower tree next to some blueberry rocks, a broccoli stalk 'bamboo' and a bucket with a kani kama towel.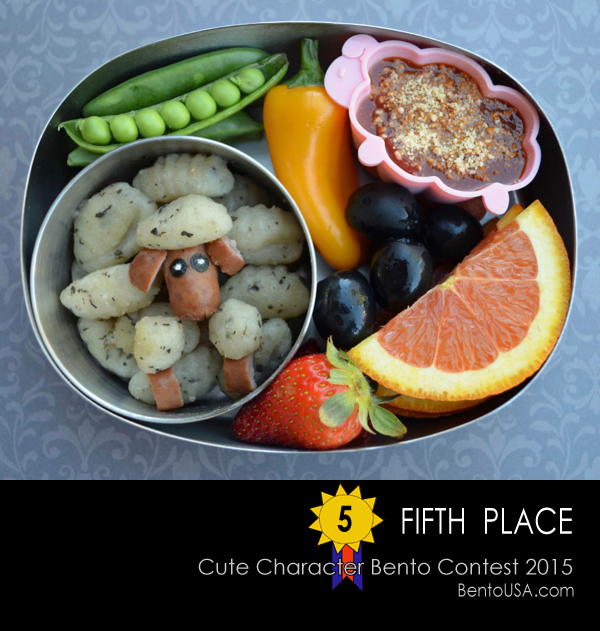 Dirty Sheep
By Anna Adden – Becoming A Bentoholic
The sheep is made from basil gnocchi and sausage.  He has nori eyes with a dab of cream cheese.  Sugar snap peas, mini pepper, pasta sauce, baby carrots (under the sheep cup), black olives, orange slices, and a strawberry complete the bento.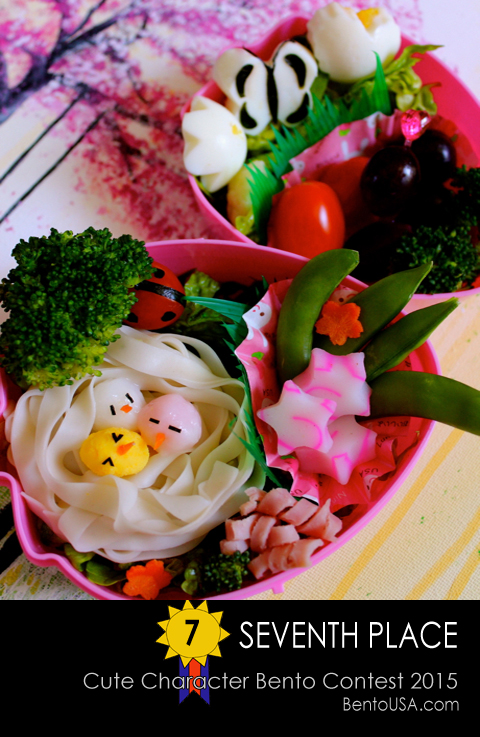 We are born Everyday
By Jennie Deng
We are human. We have our good days and we have our bad days. We open our eyes every morning to a fresh new day, just like a newborn taking their first breath. This photo is inspired by positivity whereby everyday should be a new chance to smile more, laugh more, and love more.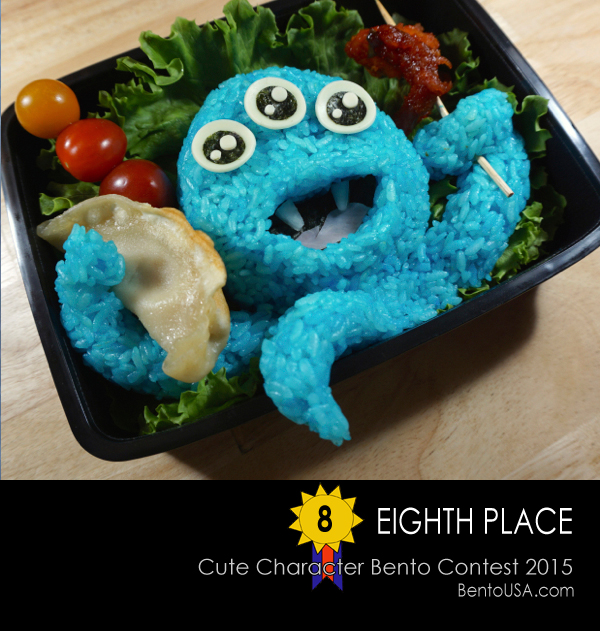 Alien Smorgasbord
By Mike 'OMGiri' Kravanis
An onigiri alien with tinted rice and nori details including  cheese eyes, radish teeth, and a ham tongue. The alien has grabbed some treats including a pot sticker, tomatoes, and a sweet pork skewer.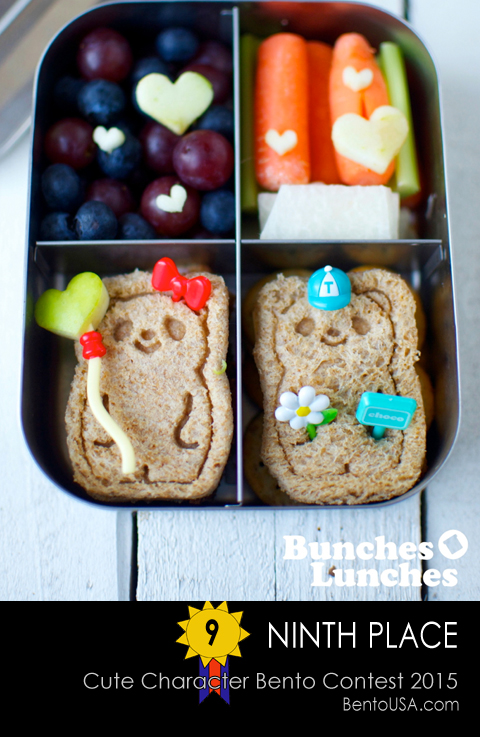 Love is in the Air
By Shannon Qualls from bunchesolunches.com
Sometimes I like to make lunches that tell stories. This is a story about a boy who meets a girl…and loves her.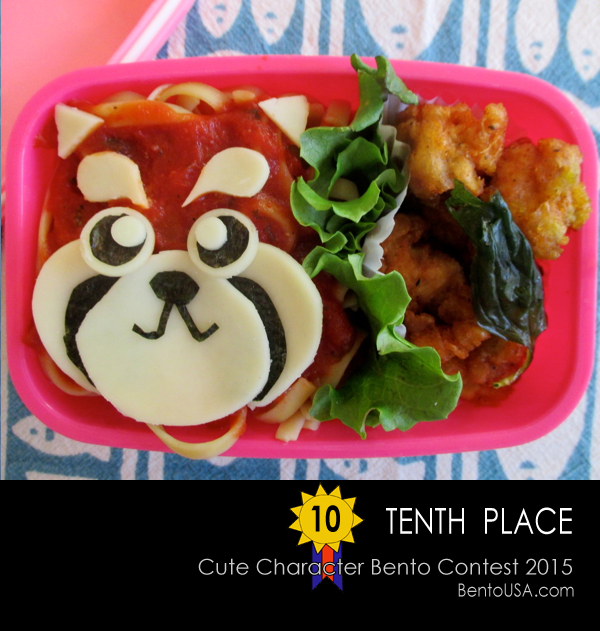 Red Panda Pasta
By Emily J. Bushman
This adorable Red Panda rests on a bed of pasta with marinara sauce. On the side are some delicious popcorn chicken fried with basil.
---