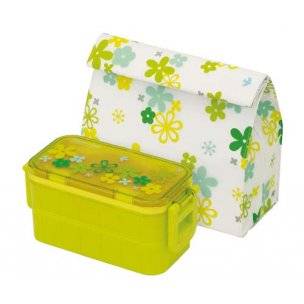 Insulated Bag Ice Pack Japanese 2-Tier Bento Lunch Box Flower Set Green
30 other products in the same category:
Customers who bought this product also bought...
Japanese 2-Tier Bento Lunch Box Flower Set Insulated Bag Ice Pack
- Green
This is a traditional bento box or lunch box set from Japan, microwavable without lids.
600ml. 2-tier complete bentobox set. This bento boxset comes with everything needed to get started, Box, Bag and chopsticks as well as an icepack that fit in the top tier. This Lunch box features a clasp locking design so no strap is needed.
The top tier lid features a silicone tight seal to help keep food fresh while it waits to be eaten. This lunch box is microwave safe without the lid. This bento box features a elegant lid design and a great vibrant color. The included chopsticks are design to fit snug into the top of the lower tier lunch box lid. The included bento bag is insulated with aluminum, very well made and is designed to hold the lunch box and room to hold a small bottle of water. (bottle of water is not included)
This Set includes 4-piece Bento Box or lunch box, Bento Box Bag, and icepack.
- Bento Lunch Box (Microwave safe without lid for warming purpose)
- Matching Flower design lunch Bag (Insulated)
- Bento Ice Pack Case
- Chopsticks
Ice Pack is located on the top lid
(this product is green color)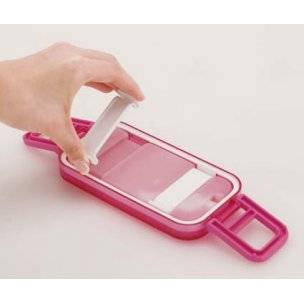 Bento Box Size: 6.92 x 3.26 x 3.42
Bento Bag Size: 7.48 x 3.54 x 10.23
Bento Box Material
- Main bento container = PP, PS, AS, silicone
Made in Japan
- Lunch Bag - 100% Cotton with Aluminum line
Capacity
- 2 Food compartments (300 and 300 ml) Total: 600
Hand wash recommended.
Imported from Japan
No customer comments for the moment.
Only registered users can post a new comment.