Customers who bought this product also bought...
Japanese Bento Accessory Rice Mold for Rectangle Sushi
This is Rice Mold for making Rectangle Sushi. This Sushi mold will help all your sushi rice in an equal amount and in a great shape. It is easy to use and can make cool square Sushi molds.
This Sushi Mold helps to make multi level filled Sushi square molds, buy filling the square half full then apply the press which has a very handy handle to compress the rice. Remove the handle and place your filling across the the top of the rice mold ( we recommend FURIKAKE seasoning found here) Then apply rice and use the handle and press to complete the rice mold then top off with a Yummy topping.

Made in Japan.
Material - Polypropylene
Overall Size - 3.75 x 2.5 x 2 inch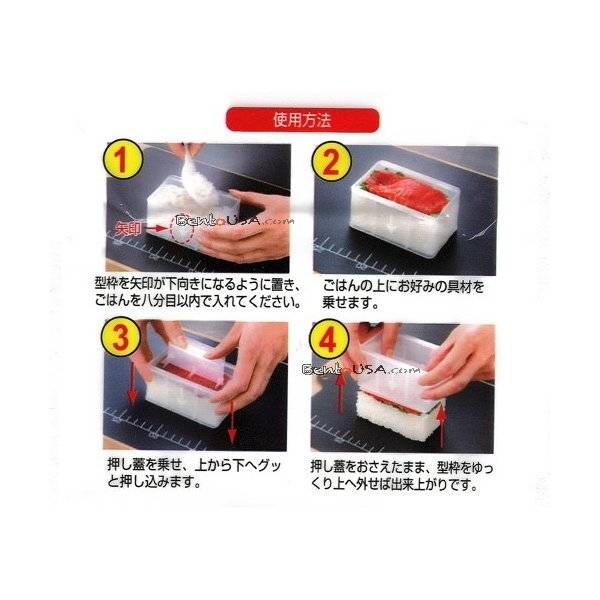 | From | Title | Comment |
| --- | --- | --- |
| 08/02/2011 Rebecca U. | Great Musubi Mold | Hard to tell for sure, but I decided to take a chance that this was the right size for making Spam Musubi (Hawaiian sushi-style hand roll). It's PERFECT!!! The size is exactly the same as a slice of Spam, and it works wonderfully! (BTW, I'm not a fan of Spam, but don't knock musubi if you haven't tried it. It's tasty!) |
Only registered users can post a new comment.