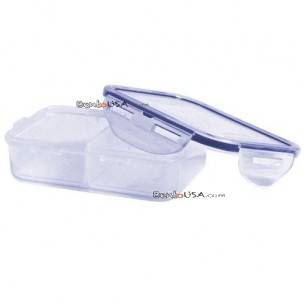 Microwavable Airtight 1.5 Cup Snack Lunch Box with Removable Trays
Customers who bought this product also bought...
Microwavable Airtight 4 piece Bento Lunch Box BPA Free Dishwasher Safe
Color - Clear with blue silicone
360ml, a great size for small portion food or as a snack box. This is a high quality BPA Free Bento lunch Box Set. The bento box is well designed, very easy to use, great for kids to seniors. This set includes 1 bento lunch box and 2 removable divider containers (Microwave, Dishwasher, Freezer Safe).
The bento box features silicone air tight clasps to keep the bento perfectly close and keep food fresh. It also comes with another 4 bento divider containers to create the portions of your food. The bento box is microwave safe.
This bento lunch box also works great as food container to storage your food, snack, vegetable, fruit because of its high quality and easy use.
This set includes
- one 360ml bento lunch box with lid (1.5 Cup)
Size- 5.75 x 4.1 x 1.5 inches
- 2 inside containers to separate food inside. They can be removed.
Each Size -2.5 x 3.4 x 1.25 inches
Bento Lunch Box Feature
- Durable and Sturdy high quality plastic bento lunch box
- BPA Free
- Each box has 6 locks to secure the storage
- Easy to Use with full perimeter locking action, which is very quick and easy, even for kids to seniors (5-75 years old)
- Absolutely air tight with Silicone feature
- Liquid Tight
- Stackable
- Perfect Seal (the precious food you keep inside will remain fresher a lot longer)
- Freezer Safe
- Microwave Safe for reheating purpose It is microwavable straight from the freezer.
- Dishwasher Safe
Material
Bento Lunch Boxes (Food Containers) - Polypropylene (P.P)
locknlock, lock & lock, locklock, lock
Made in China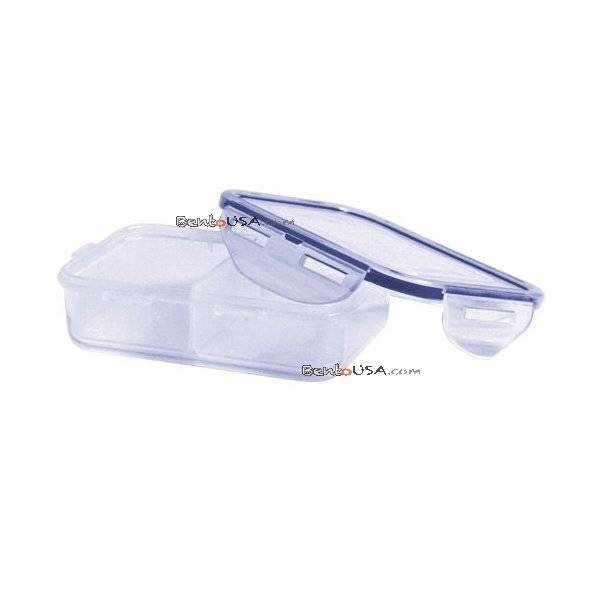 No customer comments for the moment.
Only registered users can post a new comment.