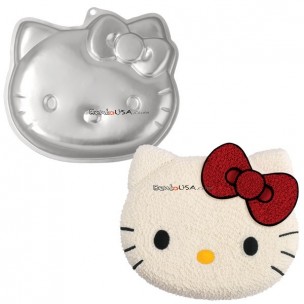 Hello Kitty Cake Pan
Customers who bought this product also bought...
Hello Kitty has arrived with this adorable hello kitty Cake pan. Briten up any birthday with this super cute Hello Kitty cake pan. The Hello Kitty pan creates the shape of Hello Kitty face into the cake even her little bow (how cute!). This is a offichial Sanrio USA product.
This Pan should be cleand by hand in warm soapy water and dry with a soft cloth. Don't place in dishwasher and avoid using metal utenils to ensure no scraching of little kittys face.
Pan Size: about 12 inch X about 10 inch
No customer comments for the moment.
Only registered users can post a new comment.