Customers who bought this product also bought...
Japanese Bento Lunch Sandwich Cutter Bite Size Heart and Square
This sandwich cutter can make 4 heart and 1 square bite-site sandwich at the same time. It helps make yummy sandwich more simple and easy, and CUTE. Make your sandwich with your favorite filling, remove crust and enjoy more yummy lunch.
If you like to make sandwich for your lunch and hate the crust or hate a sandwich where the filling falls out before you can eat it? Then this is a great accessory to have. This cutter helps you cut your normal size square bread to a tightly closed bite-size mini sandwich. This Sandwich Cutter can turn a sad lunch day with your sandwich fillings all over to a Happy one! This Also removed the CRUST. This Cutter is great for Kids lunches or anyone.
How to use (see image for guideline)
The mold includes 2 pieces: base and cover.
- Start with the base part of the mold. (The base part has dots on the corners)
- Warm up two slices of bread in microwave (about 20-30 seconds) Then put ONE slice of bread in the base.
- Use the cover part to cover the bread and press down, to make shape lines on the bread. Then remove the cover.
- Put the filling you like within the line that is shown on the bread (should be small amount, as this is to make a bite size sandwich)
- Put the other slice of bread on the top and use the cover to press down with pressure to ensure a perfect cut.
- Finish
Tip
- Use large size of bread
- Warm up the bread in microwave about 20-30 seconds. If the bread was stored in refrigerator, microwave for 1 minute.
- Use remaining bread to make french toast.
Recipe for French Toast
- Bread (Remaining portion), Egg (1), Milk (100 cc), Sugar (1 tablespoon)
- Mix egg, milk, and sugar
- Dip bread in the mixed egg, milk, and sugar
- Fry the bread on the pan
- Optional, eat with your favorite syrup for extra flavor.
Idea for bite-size mini sandwich
- Almond Cookie sandwich
- Strawberry jam sandwich
- Chocolate sandwich
- Orange sandwich
- Mini sausage sandwich
- Mayo Tuna sandwich
Material - Polypropylene (PP)
Hand wash only
Product size - 5.25 inch wide x 5.5 inch long x 1.45 inch deep
Made in China uncrustable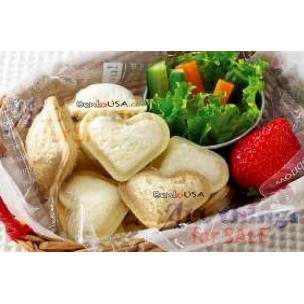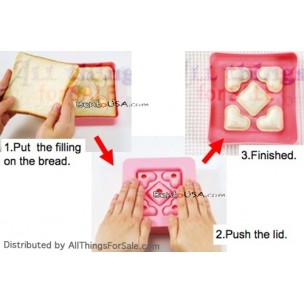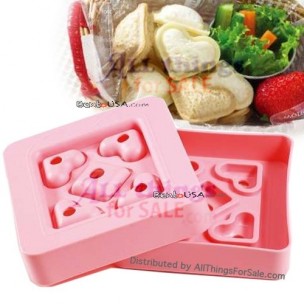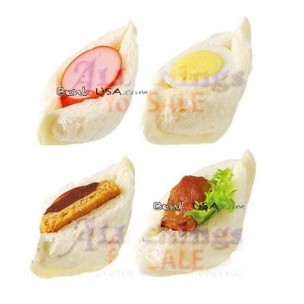 From
Title
Comment
05/11/2013 L. W.
This REALLY works!
Needed a way to make appropriately-sized sandwiches for pre-school field trips. Regular, non-sealed sandwiches would come apart too easily and my pre-schooler isn't great yet at keeping the filling and bread together when eating. Not neat, and ended up being wasteful because the filling in a non-sealed sandwich fell out onto the picnic grounds. So a pocket sandwich seemed like a great idea.

Bought it but was worried if it would really seal the sandwiches. Followed the instructions to the letter, from warming the bread for a few seconds to carefully pressing the marking lines. I don't use white bread, so used store-bought wheat bread. Used small squares of Colby cheese for the filling the first time. After I put the warmed, second piece of bread on it and pressed the cover on to seal it, I pushed semi-hard on the cover, removed it, and voila! It was done! I had to use the blunt end of a large cooking chopstick in the holes in the back (which they thought of for us) to push the sandwiches out onto the plate, but they were perfect! The cutest little hearts, and a perfect square---completely sealed.

Sandwiches are about an inch and a half at the widest point for the hearts, and about 2 inches square for the one square sandwich. Our picky 3-year old ate the heart sandwiches in about 2-3 bites per sandwich.

Cut up the extra bread remains, dried them, and put them in a freezer bag to make bread pudding later.

Son loved the little sandwiches, and ate them all! Even asked for more. And no messes or filling falling out. Yay!

When he is older and not so interested in tiny sandwiches, will use these for tea sandwiches and picnic lunches. Would also make great items to take to family/work potlucks, since it's mess-free and people can walk around with them on a plate safely. Too cute!!
Only registered users can post a new comment.