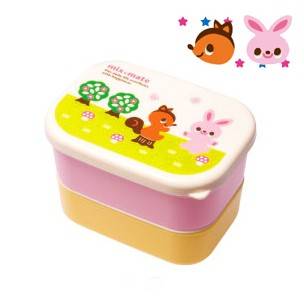 Microwavable Japanese Mini 2-tier Bento Snack Box Girl
Customers who bought this product also bought...
Microwavable Japanese Mini 2-tier Bento Snack Box Girl
This is Microwavable Japanese Bento Lunch Box 2 tiers design, with cute animal design, Squirrel and Rabbit, imported from Japan, great for small portion of snack or food.
This 2 tier bento box includes 4 pieces (two small containers and two lids) The Top tier has a seal lid and holds 240 ml, while the bottom tier holds 170 ml. The bento box is 4.35 inches long, 3.15 inches wide, and 3 inches high. After lunch time, the bottom part of the bento box can be put in the top part for the convenient storage. The Bento Box is microwave safe for warming food without lids.
Capacity - Top tier holds 240 ml, bottom tier holds 170ml, making total of 410ml)
Bento Box - Microwave Safe (without lid) for warming purpose
Material
- Main bento container - Polypropylene
- Lid - PS
Imported from Japan
Made in China
Please check out our Bento Accessory section for our bento strap to hold the bento box pieces together (sold separately)
No customer comments for the moment.
Only registered users can post a new comment.