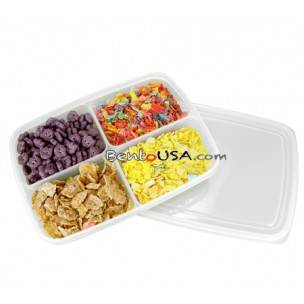 4 Sections Flat Food Storage Bento Lunch Box Small
Customers who bought this product also bought...
4 Sections Flat Food Storage Bento Lunch Box Small
Semi Transparent
This bento lunch box has 4 fixed sections, which help separate different food, for example, vegetable, fruit, and carb. The seal lid helps protect food in the container. The flat sectional design is great and convenient. This item includes one 4-section bento container. (Multiple containers can be stack on top of each other. Additional container is sold separately.) Food is not included.
Not recommended for liquid items as it is not air tight.
Buy 5 sets of this item, get 30% off each set. No coupon needed
Also great as a food storage container in refridegerator, food pick container, and more
Overall size - 8.25 x 6.15 x 1.25 inches
4 sections container - 100ml x 4 pieces = 400ml
Overall capacity - 600ml
Material
Inside container - PP (Food safe plastic)
Lid - PS (Food Safe plastic)
Imported from Japan
Made in Japan
No customer comments for the moment.
Only registered users can post a new comment.