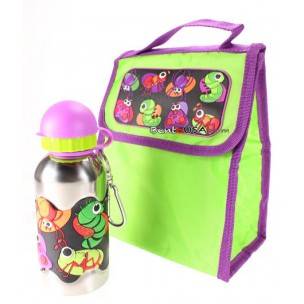 Combo Stainless Steel Drinking Water Bottle and Insulated Bag
Customers who bought this product also bought...
Combo Stainless Steel Drinking Water Bottle and Insulated Bag - Cute Bug
This is an Eco-Friendly Stainless Steel Drinking Water Bottle 12.5 oz, very attractive design, easy to handle, comes with hook for easy and convenienct transportation, to be hooked on backpack, lunch bag, and more. Kids willl love these bottles because of the colorful and whimsical non-slip grip design. Moms will love them because they are safe, convenient and they are stainless steel, BPA free, and no phthalates. No harmful plastics. Holds 12.5 fluid ounces. Non-slip rubber grip. Colorful flip cap to ensure cleanliness. Plastic reclosable sport top for ease of use. Safe for your child and the environment. Medical grade stainless steel.
Insulated Bento Lunch Bag with 3D design
This Insulated Bento Lunch Bag is fully insulated with easy open or close function with velcro latch. It helps keep temperature of your food stay longer. This bento bag has a built-in handle to make carrying convenient. The bag feature is very adorable bevel design creating a 3D effect, look great that help brighten your lunch or picnic. This bag fits 2 of our URARA Japanese bento box series perfectly, or 3 of small single-tier bento boxes, or other type of bento boxes. (See size information for detail)
Color - Green base with Blue linding and handle (Velcro Design)
Bento Lunch Bag Size (measure without handle): About 7.25 inches wide x About 8 inches high x About 4 to 4.15 inches deep
Safety tested, Wipe clean, Fully Insulated
Bottle information - 12.5 oz
Intended for room temperature, cool and cold beverages. Patent Pending
Care and Use
- Hand wash thoroughly before use.
- Clean with warm soapy water. Rinse thoroughly
- No bleach, or chlorine
Made in China
No customer comments for the moment.
Only registered users can post a new comment.