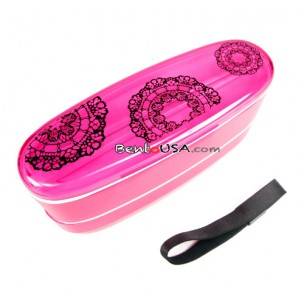 Japanese Microwave Ok 2-tier Slim Bento Box with Chopsticks Pink
Customers who bought this product also bought...
Japanese Microwave Ok 2-tier Slim Bento Box Pink
This is a two-tiered bento box with a pair of chopsticks, slim type. This bento box is originally designed to have slim and long shape so it fits in laptop bag, briefcase or diaper bag as the slim shape helps the bag less bulky.
The Bento box has two tiers for storing food, and one tier for storing a pair of chopsticks (included) This cute bento box is made of food-safe plastic.
Color - Bright Pink with Black Line design
Overall Size
- Bento Lunch Box - 7.25 inches long x 2.6 inches wide x 3 inches deep
- Food storage compartment (top tier is 1.5 inch deep, the bottom tier is 1.15 inch deep)
Capacity - Total of 600 ml.
Material - PP, PS. LDPE (Food Safe Plastic)
Imported from Japan
Made in China
No customer comments for the moment.
Only registered users can post a new comment.