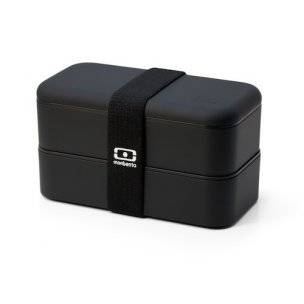 monbento Bento Lunch box Black
Customers who bought this product also bought...
monbento bento Lunch box
- Black
This monbento box comes with two airtight containers, an adjustable separator and a wide elastic strap. This Bento is Made of strong high-quality plastic with a soft-touch finish. This Bento Features a 100% airtight lids on both top and bottom. This Bento lunch box not only is a award winning design from France, but is also practical and microwave safe. It is large enough (1,000 ml) to fit just about anyones appetite. This Bento box can be used in a single or dual tire mode. To uses as a single tier bento just uses the include wide bento strap sideways.
Size: 1000 ml
7.2 x 3.7 x 3.9 inches
-Microwave-safe
-Dishwasher-safe
-Airtight
-BPA-free
Designed in France
Made in China
No customer comments for the moment.
Only registered users can post a new comment.